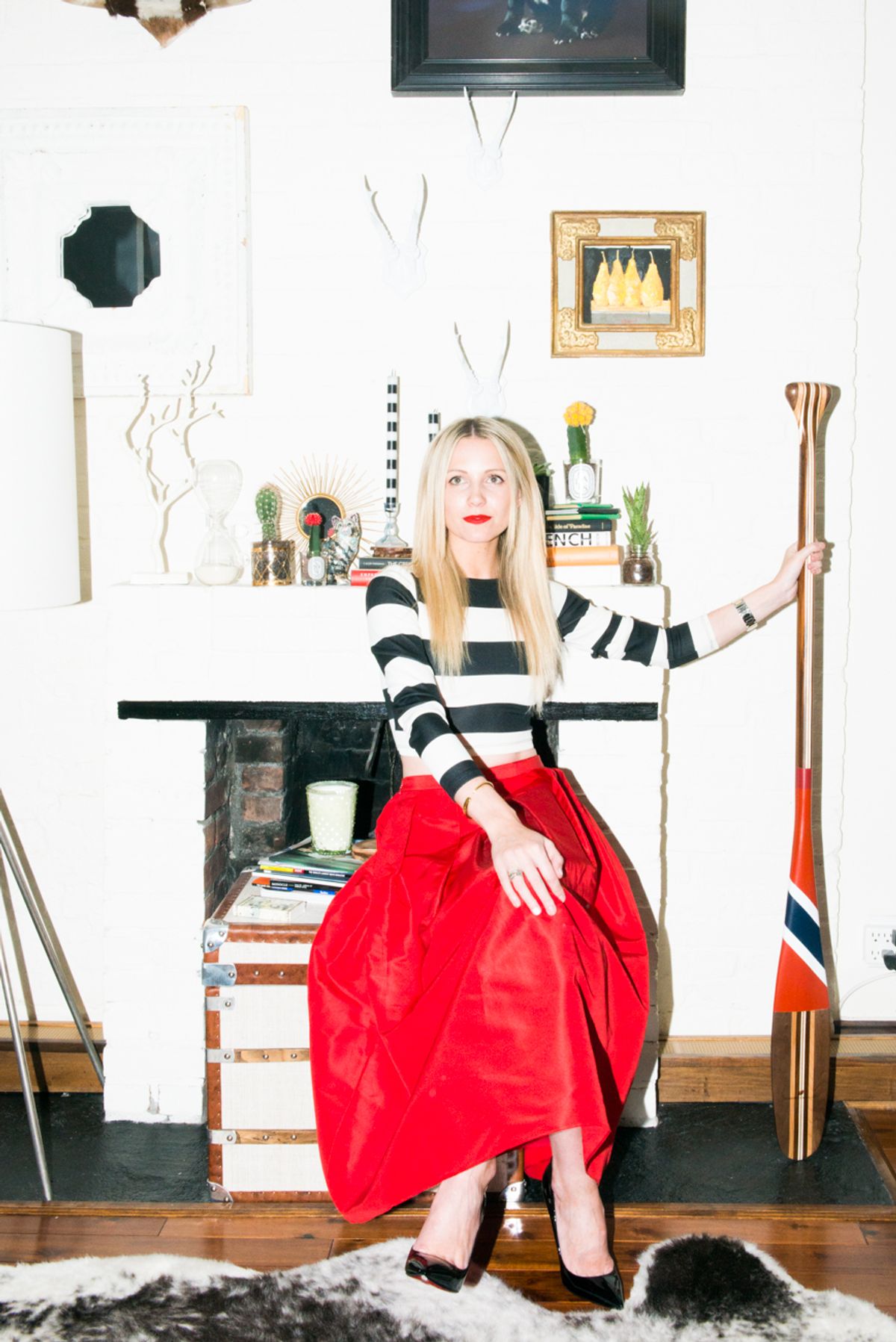 Closet
Merchandiser and Blogger, Atlantic-Pacific
What's better than kicking back after a hard day's work than with a tall cold one? And that's precisely the kind of top notch treatment blogger, Blair Eadie treated us, too. Take note, future Covs.
After downing a much-needed beverage, – wrapped in a monogrammed "B.E.E." koozie, nonetheless – Eadie gave us the grand tour of her newish N.Y.C. digs. And, yes, her Atlantic abode everything you imagined her Pacific pad would be; think: boldy striped citron accent walls, exposed brick fireplace, decorative antlers, mix-matched frames, baby cactuses, vintage trunks and a bunch of well-curated coffee table books. But, really, would you expect anything less from her? This coming from the girl who was voted Best Dressed in high school, mind you. "Which actually validates I was the worst dressed person," she joked.
And while she's a merchandiser by day, – her 9-to-5 is the Director of Accessories at Tory Burch – it was evident that she certainly moonlights as one, too. There's a reason the Atlantic Pacific ­blogger amassed quite the following. She's got that whole I-just-woke-up-and-walked-out-the-door thing down to a science, mixing CHANEL and Valentino with Zara and J. Crew proving you don't need to be a trust fund kid or something to have sick style. Who else greets you at 6 p.m. in a nautical striped Arden B. crop top, cherry red faille A-Line Tibi skirt (she's got it in multiple colors, FYI), black patent Loubs with nails done, hair done and everything did? And while her roomie boyfriend doesn't necessarily reap the benefits of Eadie's, uh, spending habits – his closet has pretty much been annihilated by hers; #sorrynotsorry – he does know a thing or two about good gift-giving. Read: Vintage CHANEL bags a.k.a. he's a keeper.
After going wild on the racks over-flowing in her bedroom, we got real with Eadie and chatted with her about everything from guilty pleasures (vending machines, McDonalds and office supplies) to our mutual love for all things Tibi (like we always say, in Amy Smilovic we trust!)