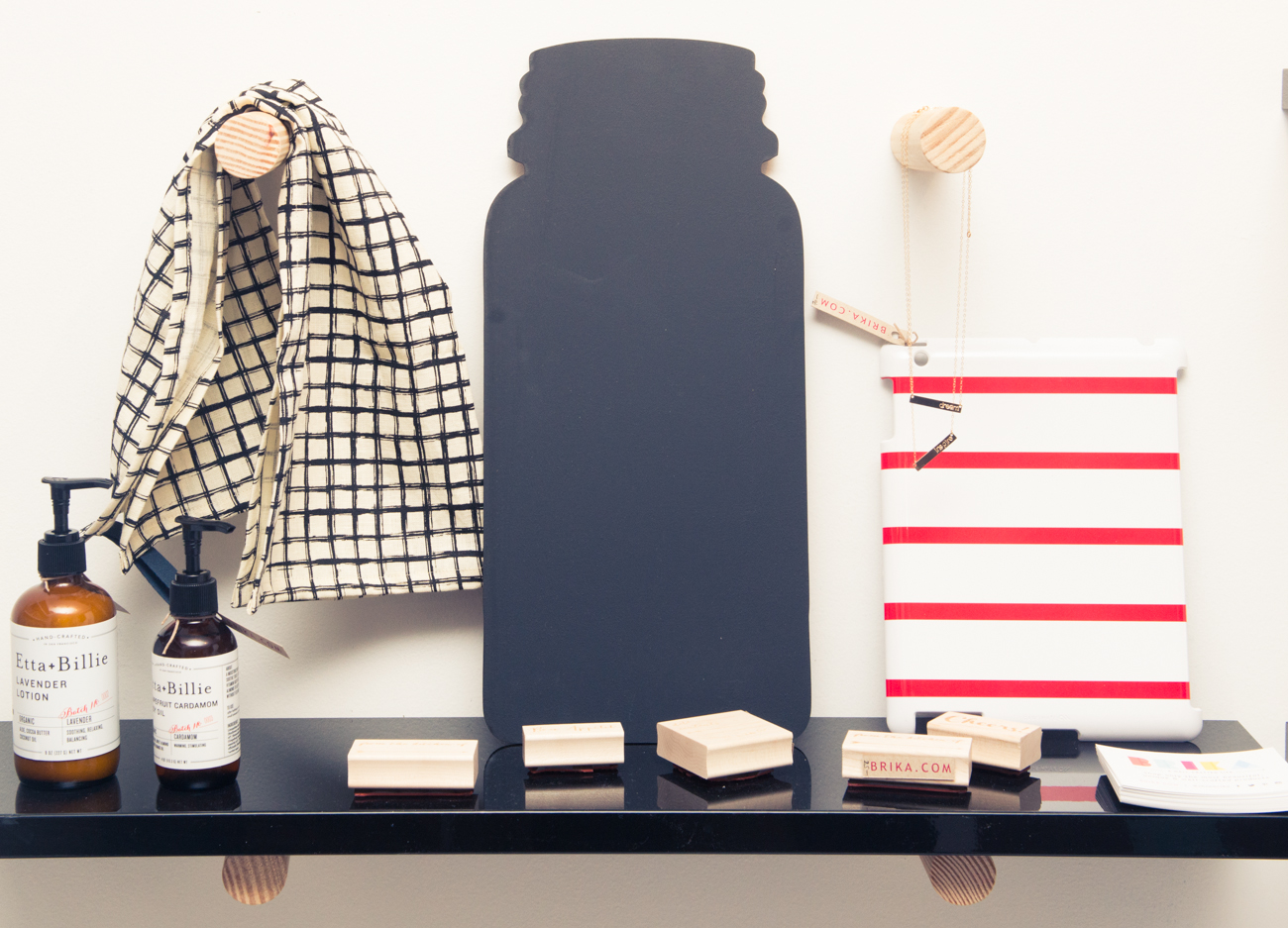 10 Things We Want Right Now
Are you listening? Expecting 1 (or 2) of these under the tree.
It's no secret we're major suckers for a good online shop (we'd be lying if we didn't cop to hours spent at the office sneaking peeks at ASOS and NET-A-PORTER; sorry co-workers and bank account). But there's no denying the rush of it's-Chrismukkah-morning-excitement we get upon finding out our favorite cyber boutique has gone and set up a real life shop. There's a reason the holidays are the most wonderful time of year, kids.
So in order to spread some joy - you know, tis the season and all - we partnered up with the Paramount Hotel to bring our favorite online creative boutique, BRIKA, to NYC. Okay, maybe it was a slightly selfish initiative too, but hey. Besides being essentially the cutest pop-up shop known to man, BRIKA consists of a collective of "Makers" from across North America, and features over 500 locally-made products. This isn't your average arts 'n' crafts grade-three-birthday-party-glitter-extravaganza either, but more like a highly skilled artistic colony put on this earth to correct our Pinterest DIY fails. To sweeten the deal just a bit more, our friends over at BRIKA have even done the hard part for us, and created specially curated collections within the shop specifically for Him, Her, the Home, the Foodie and the Little Ones. And if you're feeling the need for something extra, shall we say, spiritual, BRIKA even scored Astrologist Susan Miller (Chrissie Miller's mom, FYI) to create a horoscope gift guide. Because, like, shopping based on someone's zodiac sign is way easier anyways: something vintage for the capricorn, something off-the-beaten-path for the aquarius and a mirror for the narcissistic scorpio (just kidding!)
We spent the weekend with our fine friends at Brika pulling together the space, getting down and dirty painting, drilling, sewing; see? we have a handy, craft side, too. We celebrated with a launch party filled with champagne, La Petite Caravane, Babiators, Journelle, BluePrint and even Karlie's Kookies. Between our own scouring of the shelves and stealthy trips back and forth to the Foodie section (#sorrynotsorry), we formulated a list of our top picks for everyone on your holiday list. And while playing favorites among a crowd of 500 or so stellar things ain't easy, we narrowed it down to a well-curated list for all the VIP and things in your life. Think: Tea Stained Polka Dot pillow for you pad, fancy Brooklyn Grooming shaving oil for the men in your life - you know, maybe as a friendly "Movember's done" memo - or our personal favorite, Fatty Sundays Dark Chocolate Lovers Pretzels.
Good thing the shop's open all the way until January 6th, right? Oh and P.S. for all you Canadians out there, there's one in Toronto at the Hudson's Bay Comapny, too!
One more thing, guys! BRIKA's brilliant "Makers" will be throwing another little soirée filled with DIY crafts and stuff on Saturday, December 14 at the pop-up. We can't give away too much, but we can tell you this: There will be tea-sampling, jewelry-making and a whole lot of holiday cheer. Plus, there will be gifts for the first 20 people and 20% off all BRIKA merchandise - consider this an early Christmas present from us to you!
FYI: The Brika x The Coveteur pop-up is located at the "Free & the Brave" space next to the Paramount Hotel (235 W 46th St, New York, NY). Run, don't walk.