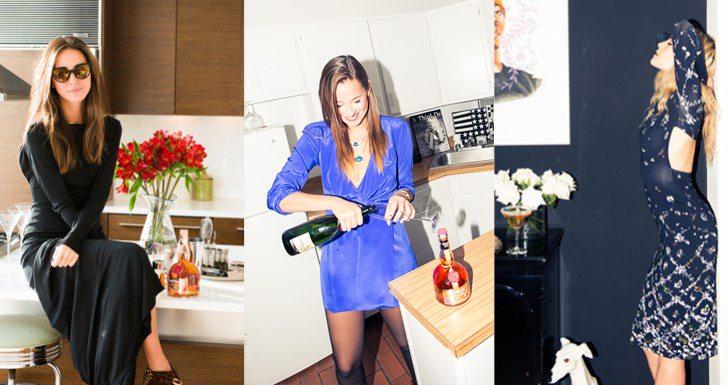 A Very Grand Holiday
Holiday party etiquette 101 with Chelsea Leyland, Danielle Bernstein and Arielle Nachmani; New York
It's that time of year folks—the lights twinkle, the Herald Angels sing, and we all gather 'round for a little cheery party-going filled with family, friends and alcohol (lots and lots of alcohol). When it comes to playing the perfect holiday party hosts, we like to look beyond Martha Stewart to the modern-day girls who know Party 101 better than anyone. So, we called upon a few of our friends – British-born, NYC-based DJ, Chelsea Leyland; the blogging brains behind WeWoreWhat, Danielle Bernstein; and Something Navy's Arielle Nachmani – to show us the ropes.
We started our day at Leyland's Brooklyn abode—think circus-esque art, distressed wooden tables, and a little Kehinde Wiley (Riccardo Tisci approved, BTW)—and quickly got into the holiday spirit. We know; a little early. Dressed in a white flowy frock, an armful of gold bangles and rings, Leyland broke out the bottles of her pink seal Grand Marnier® Raspberry Peach and got straight to playing bartender. A healthy dose of tequila, a squeeze of lime, and one salt rim later, we had ourselves a round of party-ready Grand Raspberry Peach Margarita. And what better to do after a little mixology lesson than a closet raid? Here at TC HQ, we would say: absolutely nothing. Between the outfit changes and sips of her margarita, Leyland gave us the lowdown on how to throw a good party: "Always have enough alcohol and food, make sure the music is amazing, only invite people you really like, and don't let people smoke in the house." You got that?
Slightly tipsy (just kidding – we don't drink on the job, guys!), we stumbled over to Bernstein's pad where we learned about drink etiquette and proper party attire; Note to self: No "cheesy" Santa-esque drinks with candy canes and anything of the 90s déjà vu is always acceptable. Bernstein started spreading a little, ahem, holiday cheer and whipped us up a round of Grand Bellinis while we peeped her closet filled with Céline and Saint Laurent shoes; Cue Mariah Carey's "All I Want For Christmas Is You."
And what better way to end a day than with CHANEL, cookies and (more) cocktails? Nachmani greeted us with Reindeer-approved treats and bottle of Grand Marnier from her well-stocked home bar and treating us to a Tom Cruise-like display, straight out of Cocktail. Artfully measuring out ounces, she expertly shook, sifted and poured us our Grand Cosmos into a few martini glasses she had on hand, topping the entire confection off with a few raspberries. You know what we always say... it's all in the details, kids! As she sipped her creation, we couldn't help but notice her glossy red manicure clutching the stem of her glass. Note to self: A good host always coordinates her manicure to her Marnier—duh.