Melanie Fiona
An afternoon in the MF life.
Fashion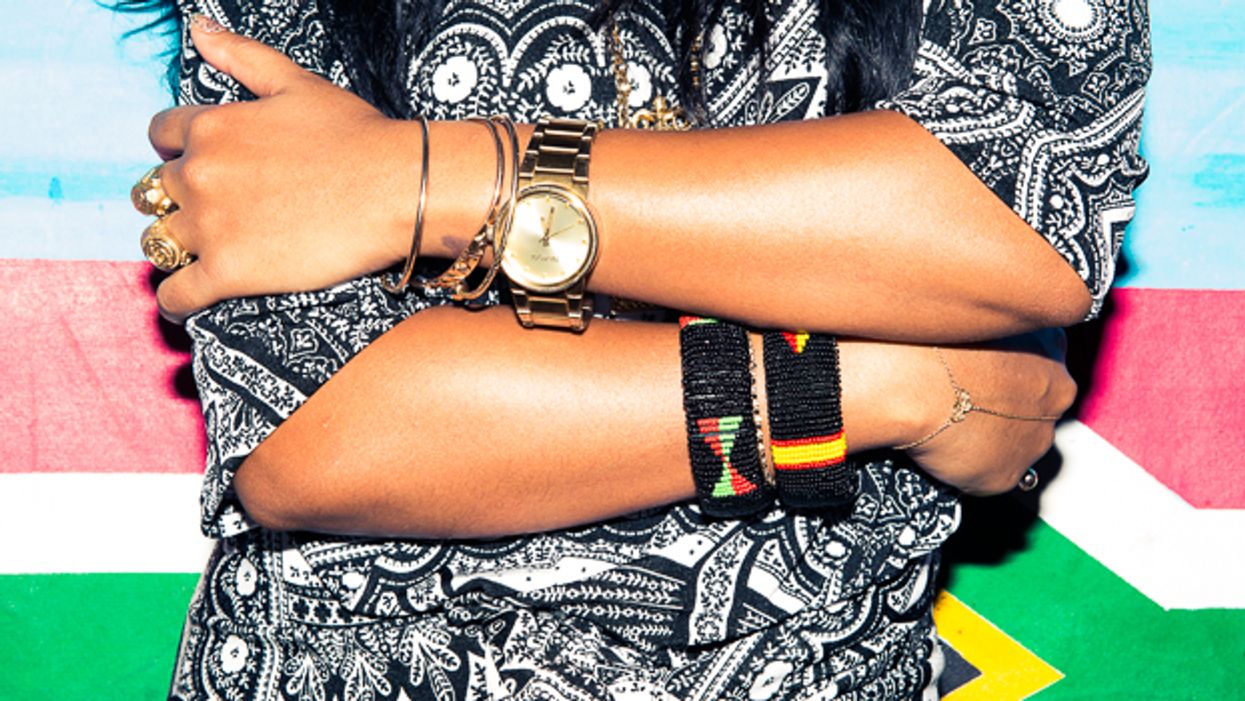 ---
What can we say? We're suckers for a Canadian (especially a Torontonian) transplant in New York. It also doesn't exactly hurt when you're Melanie Fiona, who, between winning Grammys and touring with Kanye West (the usual), took the time to sit down with us at Madiba, one of her favorite spots in Brooklyn. We chatted about everything from Christian Louboutin to that time Jay Z put her face in Times Square; we can't make this sh*t up, guys.
...On the evolution of her style:
"On my first album, the sound was reminiscent of retro soul, so my style was definitely more girly: pencil skirts, peplum dresses, et cetera. Since then, the vibe of the music has gotten more hip-hop and soul driven, and my life has become more spiritually driven, so my style definitely is more reflective of that. I don't care as much about what people think style is 'supposed' to be... I don't ever want to be confined to one look or image. I enjoy dressing for what makes me feel most comfortable and confident."
...On signing her record deal:
"One of the most memorable experiences, absolutely, has to be signing my record deal. Not only for the reason that it was what I had been working towards all the years prior, but the story that came along with having to fly to New York to make it happen. What was supposed to be a quick hour and a half flight from Toronto, turned into a 13 hour re-route through Atlanta, an emergency medical landing because someone had a seizure on the plane, and arriving in the middle of the night without my suitcase (that the airline had lost), with no clothes to meet the President of Universal Motown Records in the morning. What started out as a disaster, turned out to be such a beautiful, life-changing moment. It always happens that way for me."
...On career highlights:
"Touring with Kanye West and then touring with Alicia Keys, two of my FAVORITE artists. I also got to be a part of the new 'We Are The World' tribute for Haiti, which was so surreal. I was singing chorus lines with Barbara Streisand, being directed by Quincy Jones!"
...On working with Roc Nation (a.k.a. Jay Z. No big deal or anything, you guys.):
"It was pretty crazy! I was actually one of their first signees. When they approached me about management, they set up a meeting. I had no idea that Jay Z would actually be in the meeting, so it was nerve racking and exciting all at the same. Having his support as a manager and as an artist is pretty cool, in business and as far a street credibility goes! He's brilliant and having him as a resource for advice is definitely helpful along the creative path. Soon after I signed to them, Jay picked me as the face of the Rocawear Women's line. They put a massive billboard of me from the campaign right in the middle of Times Square! Crazy!"
...On what's next:
"Right now I'm in such a great place. The motto is 'If it doesn't make me happy, healthy, or creative, I'm not involved'. Staying on that path, I've been working on putting out free music for my fans, while I work on my third album. It's a great way for me to work my inner artist and service the fans with music. I'm about to put a mini bundle of music called 'Free Love'. I have a song out right now off that compilation called 'Cold Piece'. In July, I was approached by Nike to be a part of their Women's Marathon in San Francisco, this October. I was completely honored. It's a great way for me to challenge myself in such a positive way, for such a important reason. I will be running for friend of mine who is battling cancer right now."
...On dream collaborations:
"Stevie Wonder. To me, he is a living legend that has contributed so much over the years in music as well as having a direct influence on the type of music I love and make. When Michael Jackson and Whitney Houston died, it really put things into perspective for me. I was devastated that I would never have the opportunity to meet them or ever possibly work with them. I don't want to wait till it's too late. I've already spoken to him about it... Now all that's left is to actually make it happen. It will.
...On the best advice she's ever received:

"It was [from] Roberta Flack. I met her one year during Grammy weekend in Los Angeles. She said 'Always keep your head up. It's the moment you look down, that you'll trip and fall'. It rang true for me in so many ways, at so many times. Focusing on the negative is the worst possible idea any artist or public figure can do. It thrives on your spirit, and you can lose your way so easily. I would give aspiring artists the same advice. I would also tell them to do a lot of artist development and self-work before they decide to put themselves out there. In other words, decide what type of artist you want to be. Whether that means touring the world or singing at your local bar. Do what makes you happy.
...On the whole New York vs. Toronto thing:
"New York is one of the greatest cities in the world. There is no place like it. I thrive off of the energy in the city, the people, the environment... everything, even the noise. I find it super inspiring for me as I grow as a human and artist. It makes me feel alive. It also reminds me a lot of Toronto... just bigger and overly populated. It's the closest thing to home for me."
...On her style essentials:
"I would describe my style as the "Bohemian Tomboy". If it flows, has fringe, or I can wear sneakers with it, I'm happy. I can't live without my black leather Grey Ant sunglasses, favourite baggy G-star jeans, or my Nike Sky-Hi Dunks. Oh! and my Christian Louboutin Daffodile booties."
...On the most Instagram-worthy restaurants in NY:
'FOOD!!! Next to love... it is the most essential for me. I love Dos Caminos. Their sangria and fish tacos are soo good. But my absolute favourite food is Italian. My go-to choices are Carbone and Scarpetta. There's not one thing on their menu that I don't love. Everything is delicious."