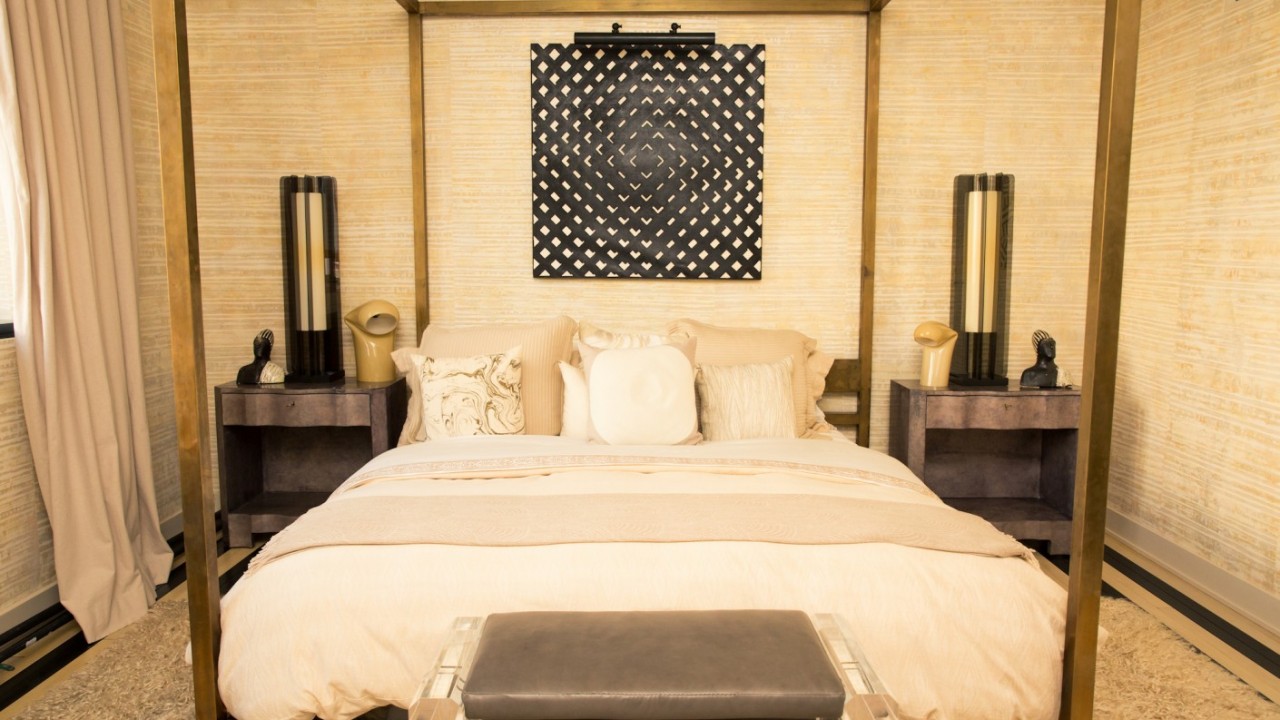 Here's How to Create a Pinterest-Worthy Bedroom
We have expert tips from design firm A 1000x Better.
Every time we browse a design site or magazine, the featured bedrooms always look so much…better than ours. Is it the organization? No, we already know how to fit everything into our dream closet. Is it the decor? Impossible, since we learned exactly how to finance a decent art collection. Then what could possibly stop our bedrooms from feeling like the tranquil oases they're meant to be? Take a cold, hard look at your bed, the centerpiece of the room, and ask yourself—is it fulfilling its chicest, coziest potential?
Luckily, we have the expert opinions of the team at A 1000x Better, an incredible interior design and staging firm in Los Angeles, to guide us through the planning process. Honestly, the difference a well-styled bed makes is like night and day. Just like how making your bed can make you feel like a successful adult, putting forth a little extra effort and truly curating everything from the pillows to the linens makes it feel like you're staying in a luxury hotel (and ready to Instagram it). Check out the A 1000x Better team's tips below for achieving the ultimate bedroom bliss.
Why the Bed Is Such a Big Deal
"Styling your bed is one of the quickest and easiest ways to amp up the design of your bedroom. Even if you're not thrilled with your space, or you don't dig your furniture, you can focus on making your styled bed a centerpiece and flip the script in your space. But most importantly: It just feels fab to have a beautiful, thoughtfully put-together bed to crawl into every night."
Make a Budget, Then a Mood Board
"Your first step is to figure out how much you can spend. No matter what your budget is, you can always figure out solutions, so don't worry if you don't have a lot of cash to spend. Then start gathering inspiration by creating a Pinterest board for yourself. Start pinning images of beds and bedrooms you love, then take a day or two to think everything over and go back to your board. Find the one or two images that really speak to you, and then start putting your bed together from there. Pay special attention to the details of the beds you love, so you can recreate them in your own room—are there lots of pillows, or is the bed more minimal? Are colors more muted, or bright? Do you love beds with a bunch of different textures, or do you prefer a more tailored, sleek look? There are no wrong answers, but it will definitely help you to pick a design direction and then go for it."
Make Mix-and-Match Look Chic
"[Mixing it up] is one of the easiest tricks for immediately making your bed feel more unique and customized. You certainly can stick to one color fitted sheet and flat sheet. But try to mix it up with your pillow cases, throw pillows, blankets, comforters, and throws. Take a look around your house—perhaps you have a throw pillow on your couch that you are sick of and you might want to try out on your bed. Another great trick: If you find a blanket, duvet, or sheet set that you love that's a bit pricey, go on eBay and type in the exact brand and style. You will often find people selling brand-new versions of the item at a big discount."
Check out A 1000x Better for more advice on creating the bed style that suits you best!