WWWRN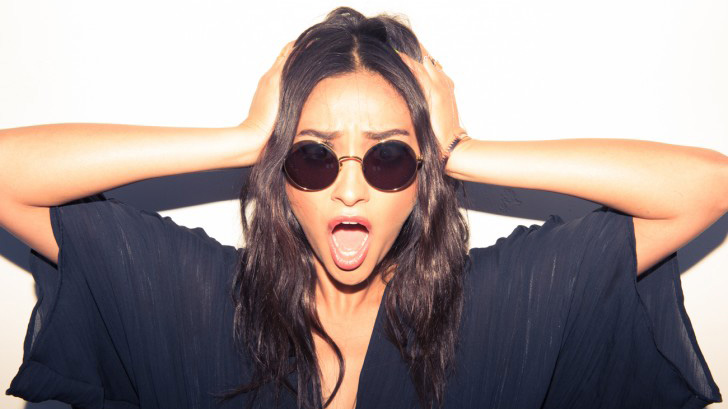 7 Things Editors Wear Even Though They Know They Shouldn't
Our editors share their not-so-fashionable guilty pleasures.
Bustle and Coveteur are working together to bring you the best mix of the season's fashion and beauty releases, shopping tips, and service stories in ways that are both inspirational, and attainable. Check The Fall Style Edit channel weekly to see what we're up to.
Having no shame is a beautiful thing! Honestly, we should all do it more often, and here at Cov HQ we operate with that mindset quite a bit. Yes, we love lots of pretty (and shiny and fancy) things, but that doesn't mean we're never tempted to wear a $2 pair of slippers or a college sweatshirt we found in our garage, even if we know that as style-conscious adults, we probably shouldn't. Oh well! We dress for ourselves, and if it makes us feel good, we will wear Soffe shorts, NYC Parks Department merch and men's undershirts, thank you very much. True to form, however, we do dress these pieces up from time to time. Read on for our seven guiltiest fashion pleasures...and how we wear them out in public
---
Tara
Assistant Editor
Guilty pleasure: My old college sweatshirts and t-shirts
What I'd wear them with:
1. Dorateymur Saloon Buckled Patent-Leather Ankle Boots
2. AGOLDE Hi Rise Classic Jeans
The other day I found a huge box with all of my old college and high school t-shirts. I went to Bronx Science for high school, and our logo is an atom (really cool) and our colors are bright green and yellow (really chic). For college I went to the University of Pennsylvania and their mascot is a Quaker. Nothing about the aforementioned is on-trend or sexy, but I loved those schools a lot and have a soft spot for their gear, even if wearing it looks a little...lame. But whatever—the nostalgia of those pieces motivates me to incorporate them into my wardrobe. Plus, I love t-shirts but have trouble buying vintage tees unless I feel somewhat connected to the band or artist or logo printed on them. This UPenn shirt is perfect in that it's casual, cute and means something to me. When I wear it I tie a knot at the bottom to expose a little midriff and it makes the great base for an all-white outfit. Now all I need are these dreamy Dorateymur boots and the perfect pair of white AGOLDE Jamie jeans.
---
Noah Lehava
Senior Editor: Health & Wellness
Guilty Pleasure: $2 Mesh Slippers
What I'd wear them with: 
1. Rag & Bone Distressed Straight-Leg Jeans
I lived in these slippers when I was in high school and fell back in love with them this summer. Nice color options are a bit hard to find these days, but I stalked up when I stumbled on a store with a good variety in Chinatown. They cost me a whole $2—what's better than that? I almost always wear them with a pair of good denim (I recently noticed I don't own any other pants other than jeans) and a top as cool as this Marissa Webb trench vest.
---
Leah Faye Cooper
Features Editor
Guilty Pleasure: Hanes Men's Undershirt
What I'd wear it with:
1. Citizens of Humanity High Rise Ankle Flares
2. Saint Laurent Tribute Sandals
In my head I'm the type of woman who wears nothing but gorgeous dresses and impeccably-tailored separates, but in reality my style is much more casual. Much to the disdain of a few friends, relatives, and judgmental strangers on the streets of NYC, men's undershirts are a staple in my wardrobe. I know they're not the most sophisticated piece (and intended to be worn under your clothes) but I love them; they're so comfortable. And flattering! Add a pair of high-waisted cropped jeans and a classic statement shoe, and you have the outfit of my dreams.
---
Jodi Taylor
Assistant Editor
Guilty Pleasure: Bicycle Shorts
What I'd wear them with:
1. Palm Angels 'Burning' T-Shirt
You would think that after wearing bicycle shorts for the majority of the summer last year that I would have been over them. Not the case. It's almost as if they complement my baggy tee obsession a little too well. I'm one who goes for comfort, though, so can you really blame me? My go-to outfit this summer has been bike shorts, a baggy graphic tee, and then I like to mix in a more high-end shoe or bag to keep things interesting (is this Off-White bag not f*cking incredible?).
---
Samantha Sutton 
Editor
Guilty Pleasure: NYC Parks Department Sweatshirt
What I'd wear it with:
1. Mother Insider Cropped Flared Jeans
2. Common Projects Original Achilles Metallic Leather Sneakers
I'm not gonna lie: Half of my pajama collection consists of free T-shirts from events and old high school gym uniforms. So whenever my dad gifts me with gear from his job at the NYC Parks Department, I gladly accept... and wear whatever it is while lounging around on weekends. On cooler days (and when my boyfriend sets the AC too high), I live in an oversize sweatshirt similar to this one. It's so comfy, I don't even take it off when leaving the house. And when paired with cropped jeans and metallic sneakers, it could easily be mistaken for cool.
---
Tahmina Choudhury
Editorial Intern
Guilty Pleasure: Vans Patent Slip-On Sneaker
What I'd wear them with:
1. Petite Confetti Ditsy Print Tea Dress
I know, I know, you might be thinking, how are a pair of Vans a guilty pleasure? But I'm a petite girl (hello to all the women 5'3" and under) who wears heeled sandals almost everywhere. Seriously everywhere, all the time—I'm talking about my daily subway commute to work, grocery shopping, and most recently even during a walk on the Williamsburg Bridge (Yeah I know, superb decision!). By the end of the day my feet are usually super unhappy and all bandaged up, until of course I let them rest in these Vans Slip On Sneakers!
---
Laurel Pantin
Editorial & Fashion Director
Guilty Pleasure: Mesh Soffe Shorts
What I'd wear them with:
2: Vans Authentic Dallas Clayton Skate Shoe
These shorts are actually called "Teeny Tiny Shorts" (seriously) and yes, they're tiny, and most likely to be worn by a member of a varsity cheerleading squad—yet, I love them. They've had a permanent place in my summer shorts rotation for the last five-ish years, and I never get tired of wearing them. Because they're so small, and so sporty, I like to wear them with a lightweight, loose-fitting sweater in a similar hue to the shorts, with a pair of fun but not exactly athletic sneakers.
Part of the series:
WWWRN