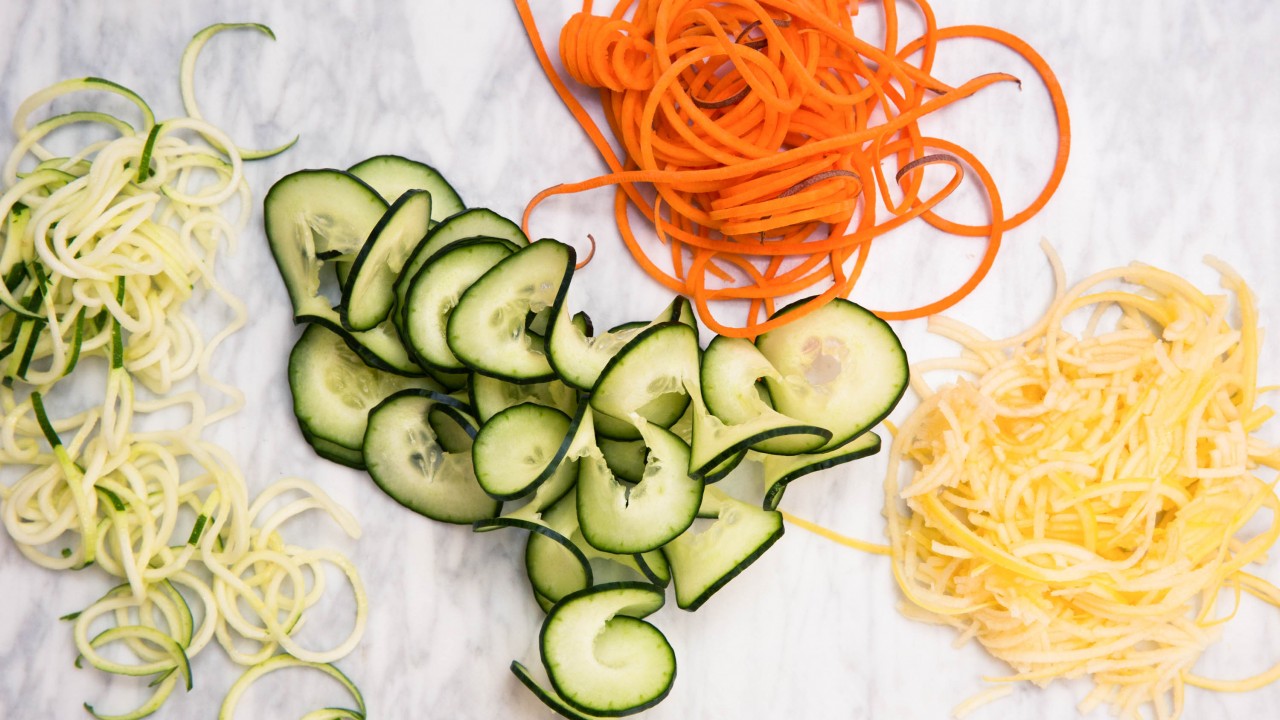 These Tricks Will Make Spiralizing Surprisingly Easy
You've probably been doing it wrong all along.
Zoodles (that is, zucchini noodles, for those of you not yet initiated) have seemingly become their own food group. Just ask the carb-averse, vegans, aspiring vegans, and, well, pretty much anyone with a Pinterest board. And you'd think, given their sheer popularity, that on a scale of Masterchef-ery, making them would be practically as easy as whipping up a grilled cheese—but somehow you're left with either choppy little strings of veggies or a soggy, mushy mess. So, to get restaurant-level and Instagramable spirally vegetables, we asked Ali Maffucci of Inspiralized to tell us what we've been doing wrong. Plus, the other fruits and veggies we can make into spaghetti-shaped noodles to add to salads and, well, pretty much whatever you can think of.
4 Things You're Doing Wrong
Don't Peel: "There are extra nutrients in the skin of vegetables. Also, zucchinis are very water-dense, so by peeling them, you'll end up with a watery pasta dish because the skin is not there to hold in the water. The 'pasta' will be less al dente if you peel the skin first, too."
Center It: "If you don't center the vegetable or fruit properly, the vegetable will be wobbly and will yield little half-moon-shaped slices."
Be Wary of Hand Placement: "If you are using a countertop spiralizer, don't put your hand on top of the machine. This is very dangerous and doesn't give you proper leverage when spiralizing, therefore making it even more difficult to spiralize."
Size Matters: "It's hard to spiralize a vegetable that is less than 1.5" in diameter."
How to Pick Out Your Produce
1. "Look for a vegetable that does not have a squishy, juicy center, but is firm. For example, you won't be able to spiralize a pineapple or an avocado into noodles."
2. "Look for a vegetable or fruit that's at least 1.5" in diameter and ideally at least 3" long. That's the bare minimum for best results!"
3. "Pick a vegetable or fruit that doesn't have a seeded core."
Surprising Things You Can Spiralize
broccoli stem
bell peppers
onions
cantaloupe