Deskside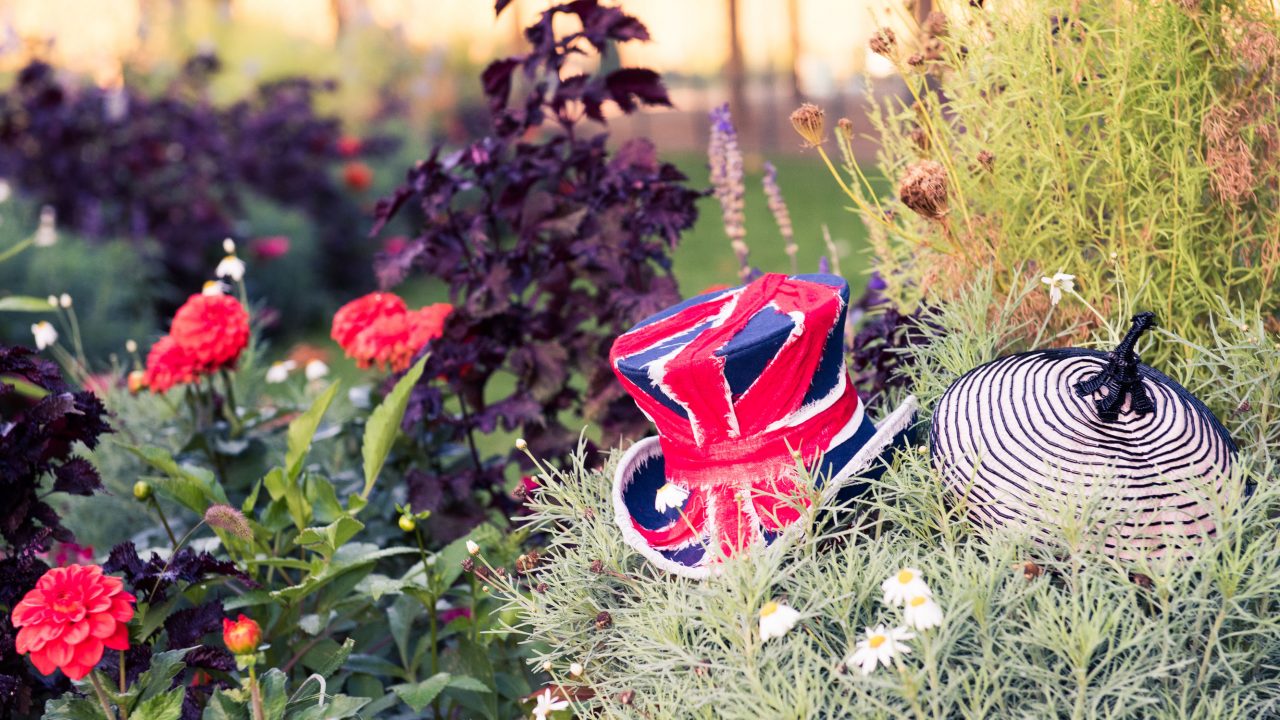 Stephen Jones Will Remind You Why You Love Fashion
The legendary hat designer on making headwear for Céline Dion and why inspiration can come from anywhere.
Stephen Jones is one of those fashion world legends whom we had to pinch ourselves over meeting—and in the shadow of the Eiffel Tower, no less, on an early morning during Paris Fashion Week. As consummate fashion nerds, we knew that Jones came out of the explosion of creativity that was the underground club scene in London in the early '80s, along with Boy George and Steve Strange, and that since then he's made hats for everyone from Céline Dion (Jones calls her the "Queen of Canada") and Grace Jones to Madonna and Kylie Minogue. And that, along with his own collections, he also designs hats for Dior and Marc Jacobs and Thom Browne, among many others. The man is busy. But talking to him was that much more "pinch me" because of how much joy he still gets out of the art of fashion—and as creative and artful as he is, he's never too serious. Herein, Jones tells us about how The Blitz, London's infamous club, will always be an important influence, the bad press Dion got because of one very infamous hat, and why even a cheese sandwich can be inspiring.
How he ended up in millinery:
"I grew up in Liverpool, and when I was growing up there it was all really depressed. I wanted to come to London as fast as possible and follow my elder sister. Amazingly enough, I got into what was called then the Saint Martin's School of Art and Women's Fashion. There was me and another guy and we were very much the token males, but I had never sewn in my life. Consequently, my sewing skills were zero. My tailoring teacher said to me, 'Stephen, if you don't get some extra help, you are going to fail the first year.' He owned a couture house and I became a tailoring intern for him. After a few months, the tailoring was fine, but the tailors were all a bit grumpy—it goes with the trade. The milliners in the millinery workroom next door were always having a good time. They worked hard and they played hard. I thought they were like really old women because they were at least in their forties [laughs]. The arrogance of a nineteen-year-old! So I transferred, and after the first day, I really really enjoyed it. I didn't know that's what I wanted to do, I didn't have a big career plan or anything. I just really enjoyed it!"
The first hat he ever made:
"The first hat I really made, it wasn't a real hat. In order to get into the millinery workroom, the lady who was the head of it said, 'Stephen, have you ever made a hat?' I said, 'No.' She said, 'Well, how can I judge?' This was on a Friday afternoon, so she said, 'Make something over the weekend.' I made this funny hat out of my sister's old blouse and some cardboard with a lot of glue and a plastic flower. I made this funny sort of pillbox thing. I think she took pity on me and said, 'Yeah, okay, fine.' Of course, the first hat I sold was to my mom. My first hat that I sold to the public was to this guy, Steve Strange, at a nightclub called The Blitz. He wore it around and that's how I started to make hats properly."
How being a "Blitz Kid" influenced him:
"The club thing was really important to me. I was making hats for friends and even though hats can be really crazy if they are from the runway, you had to be able to dance in them—that was the big thing about my hats. They couldn't be too big that you couldn't dance, it being 1980. And my friends really influenced me. I was inspired by my friend Kim [Bowen] or people like the dancer Michael Clark and Boy George, who were my friends at the time. In fact, at the beginning I had more male customers than I had female customers. I still make a lot of hats for men."
He is his own fit model:
"I haven't got any hair now! [laughs] Originally I had full, luxurious locks. At the beginning, if I shaved my hair off I became women's stock size, which was 58 cm. With hair, it was too big."
How a hat comes to be:
"It's quite a long process. I do two collections a year, same as a dress designer. I have to decide a theme of the season. How does that happen? I don't know. It's just living life. It's knowing what is going on in fashion, but when you're making a hat it's much more about the person or about beauty. It's not how they look; it's how they want to be!
"I take a notebook everywhere with me and I sketch in it and I make memos. Next to my desk, I have a big box and I try every day to throw a note or something into that box. Every month I'll look into that box and most of it is complete crap [laughs], but there are a few good ideas. I design all the time in my head and then write it all down on paper. I have a miniature head that I take with me and sometimes I do things in 3-D. Normally it's on a Sunday morning on a sofa and I sit down and sketch and get the rough of the collection on the paper. Then I make a prototype. It goes through various stages of fitting and we think about fabric. It's quite a formalized process. But then in another way, sometimes you'll just pick up a leaf and put it on somebody's head. Hats can be a bow of tissue paper. Sometimes it's spontaneous. I think the best thing is not to have a formula."
Some of his favorite clients over the years:
"Boy George years and years ago. Or Dita Von Teese. Or Anna Piaggi. Or Céline Dion, Queen of Canada! I haven't worked with her directly, but I did hats for her when I was at Dior. The famous white fedora when she wore [it] with that suit back-to-front at the Oscars, that was my white fedora! The hat that scandalized a nation [laughs]. She got such bad press for that."
Why making a hat is completely different than making any other accessory or garment:
"Often it's a statement if someone is wearing a hat at all. It doesn't have to be Carnegie Hall on your head! It's about making them feel confident and relaxed about it and getting them to have fun. And understanding what they are wearing it for. Is it for a special occasion? Is it for a wedding or a Bat Mitzvah? Or is it for performance? Or is it for wearing it on a Monday morning?"
What it's like to work with designers like Thom Browne and Maria Grazia Chiuri at Dior:
"I work with designers, too. Whether it's Dior here in Paris—we just showed a couple days ago with Maria Grazia Chiuri—or working with Thom Browne in New York. I've also worked with Marc Jacobs. Working with Thom, for example, is an extraordinary experience. He comes to London, he is really into hats, and the hats perform. I say 'perform' because his shows are a performance. It's not only a fashion show. The hats are a really integral part of the show."
How he stays inspired:
"Inspiration comes from everywhere. Inspiration can come from this conversation. Inspiration is time and place. I go to Montreal and I see Habitat [67]... It goes everywhere! Inspiration can be art and someone like Sterling Ruby, but it can also be a cheese sandwich! [laughs]"