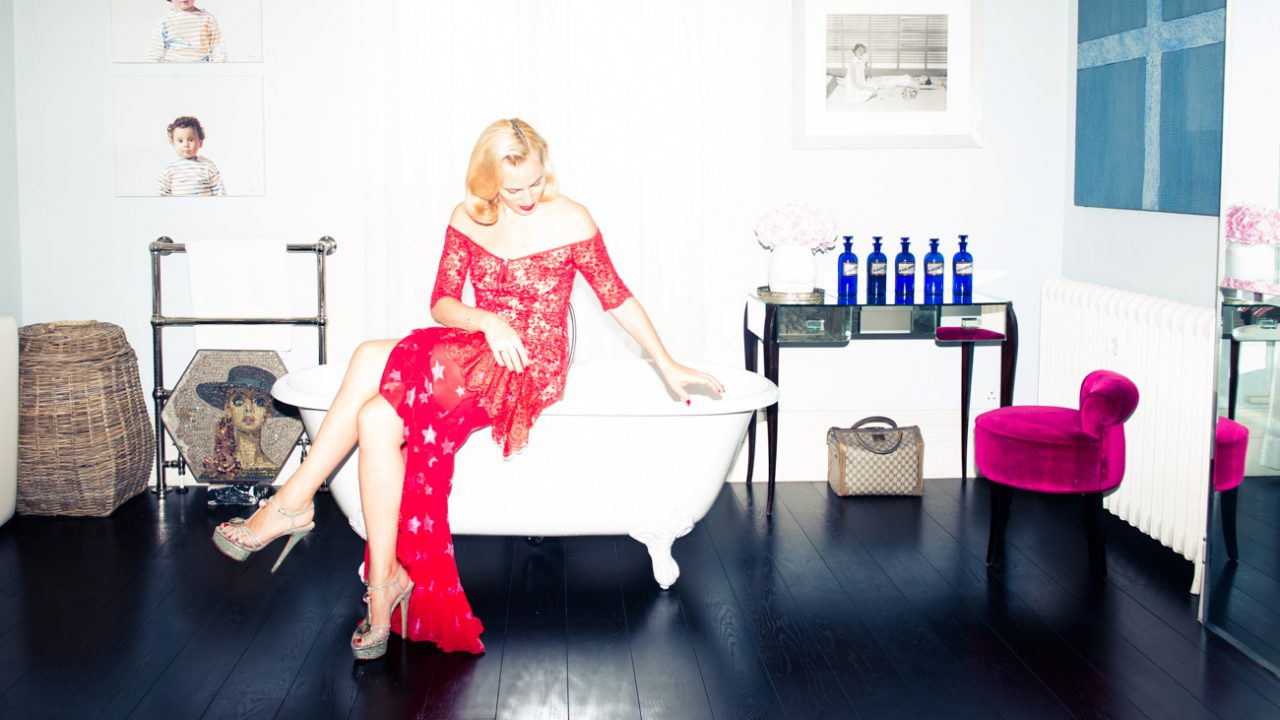 The Bedtime Routines of 4 Fashion & Beauty Editors
The art of unwinding, courtesy of Pandora Sykes, Julie Schott, Jessica Andrews, and Brie Welch.
By now it seems we've "gotten ready" with everyone and their mother. Most recently, we've peeped the routines of Emily Oberg, Sofie Valkiers and Camila Coelho. You can't deny that the process can be completely delightful, as long as you've got plenty of time. People in the fashion industry in particular tend to spend lots of time getting ready for different events, parties, work, etc. Sometimes it can seem like the blowouts and the swipes of mascara never end. But it does.
As any self-proclaimed beauty obsessee knows, thy makeup must come off before sleep commences (even though we're guilty of passing out with it on more often than we care to admit). But at the end of the day—pun totally intended—getting "unready" isn't just about removing your makeup or taking a bath, shower (whatever you fancy), it's about taking that time to unwind. To decompress from the chaos that is everyday life. Here's how four of our favorites do just that.
Fashion Features Editor, The Sunday Times Style
"If I have nothing on that evening—my favorite kind of evening—I literally strip as I mount the 69 (yes, 69, a ready-made pun) stairs to my third-floor flat, before running myself a bath with L'Occitane or Jo Malone bath oil the moment I walk through the door. Then I put on some Olivia Von Halle or Three Graces silk pyjamas, close all the curtains, switch on the lamps and light the candles (Byredo, anything) for ambience and shit, and pull my laptop and whatever book I'm reading onto the sofa, before ordering sushi.
"The sofa—my favorite place, it's pink and has Bella Freud cushions strewn and a cat across it—is also where any pampering takes place. Weird Korean face masks, Scholl intense foot moisturiser (because I'm on a mission to never spend money on a pedicure again), Weleda body moisturiser, etc.
"A few things take place at the sink—I remove my makeup with Bioderma, use Avene face wash and La Roche Posay moisturiser because I have tricky skin and my dermatologist says embrace only French pharma brands, and I also brush my teeth using Curaprox toothbrushes because they are pretty and apparently soft toothbrushes are the way forward, or so my beauty editor says.
"I know that I am now old because I have to wear ear plugs and a silk eye mask (from Yolke) to sleep. And sometimes too much is going on in my head and I have to hit some Good Wife or a few lines of Meg Wolitzer."
Digital Fashion Editor, TeenVogue.com
"As soon as I walk through my bedroom door, I open the curtains so I can catch a glimpse of the Harlem sunset from my window. Then, it's all about getting as comfortable as possible: taking a long shower, slipping into my pajamas, lighting a candle (Diptyque Baies is a fave) and unwinding with my favorite 'turn down' songs, which run the gamut from Chance the Rapper's 'How Great' to Stevie Wonder's 'Visions.'
"While I still have a modicum of energy, I tackle my hair—by far, the most taxing part of my regimen. I wash, detangle, deep-condition and twist my hair every weekend. On weekdays, it's all about maintaining that style as much as possible. My hair gets super dry since I dyed it blonde, so I apply a leave-in conditioner (either Camille Rose Naturals, Cantu or Eden Body Works) to bring it back to life. Then, I'm pinning my hair up in a pineapple and re-twisting the front so my curls are nice and springy in the morning.
"I remove my makeup with my beloved Clarisonic and Lancome Makeup Remover. Then, I use face wash, a toner and a light moisturizer. Once I've washed the day off my face, I go through all my group texts—I have a chat with my Dad, brother and sister; one with my cousins and aunts; and another with my best friends. I inevitably decline some invitation to go back out (once my hair is twisted, the night is officially over!). I pick out my outfit for the next day so I don't tear my closet apart looking for something to wear in the morning. Then, I heat up the dinner that I prepped over the weekend (salmon is LIFE), or I order tacos for delivery if I'm feeling adventurous.
"If I have some time on my hands, I'll give myself a diamond cream facial, which is my secret to never aging...alongside my mom's genes, of course (thank you, Mom!). Another secret? La Prairie Skin Caviar eye cream, which I douse on generously before my face hits the satin pillowcase.
"I read and read and read until I fall asleep. Right now, I'm reading a beautiful, insightful book about grief that helps me deal with the roller coaster of emotions I've felt since my grandma passed a year ago: Things I Wish I Knew Before My Mom Died by Ty Alexander. I read scriptures on my Bible app, check out a few style blogs, catch up on the day's newsletters, and assign all my fashion news stories for the morning on Teen Vogue. On days when it's harder to sleep (which is basically every day that ends with y), I listen to an audiobook of Oprah's What I Know For Sure. Phil [Picardi] recommended it to me when we were chatting about my insomniac struggle, and it's really the perfect solution. It's such a great feeling to end the day with words that truly uplift and encourage me. And just like that, I'm off to sleep!"
Fashion Director, Garance Doré
"I'm pretty much a minimalist in terms of beauty. I shower at night and let my hair air dry or twist [it] into a bun. At night, I generally use a toner with witch hazel and rose to take off my makeup if I don't have another micellar water around. Then I dab [on] Biologique Recherché P50 with a cotton ball. If I'm literally in bed, I use a coconut hand cream and a Japanese cuticle oil. And if I'm not headed straight to sleep, I'll likely sit in the living room with my dog, Leo, and [my roommate,] Anna, chatting about the day, and then Anna will try to persuade me to go out for a drink and I'll decline. I have weeks' worth of Jimmy Fallon to catch up on..."
Senior Beauty Editor, Elle.com
"Sometimes my getting-ready process is 15+ steps, so while I wish I was like, 'Oh, "Unready?" I just swipe a makeup wipe over my naturally perfect face and pass out,' that is NOT THE CASE. The first thing I do when I get home is eat something (even if I've just come from dinner) because, I don't know, it's just a habit. So I have a snack, procrastinating the makeup removal.
"Then, if my makeup still looks fresh and it seems like a waste to just wash it off, especially if someone other than me did it, like Pat McGrath (in which case I will sleep in it!!), maybe I Snapchat or FaceTime or something to really get some mileage out of this better-than-normal-looking face.
"Now for the actual removal: I do my own version of the double cleanse, which means makeup wipes followed by an oil cleanser. Right now I'm into Bioderma's wipes and Sulwhasoo's Gentle Oil Cleanser. FYI, I was skeptical of oil cleanser at first, as an acne person, but this stuff has never caused a breakout for me. Let's say there's mascara left over, I'll go back in with Lancome's waterproof makeup remover GENTLY because this is how you lose all the lashes: aggressive mascara removal. I'm fine with leaving some mascara behind if it means saving a lash. Once my face is completely clean, I put prescription Tretinoin all over. This stuff works on wrinkles, dark spots, acne—it's everything. Ask your dermatologist. For the grand finale, eye cream! For this I use Dr. Sturm's MC1 Cream made with my own human blood. YES, MY BLOOD. I'm obsessed with her entire line."