WWWRN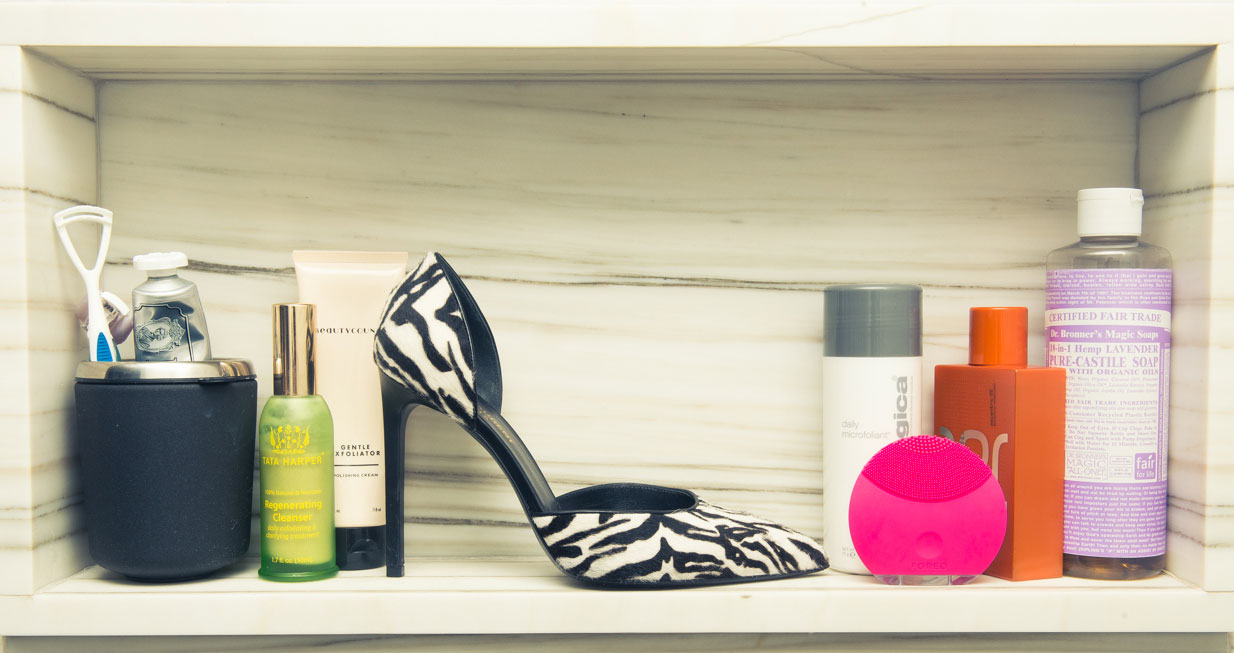 Time Saving Beauty Products We're Splurging On
Trust, they're worth the investment.
There's something about beauty products that makes us willing to shell out the big bucks—we're bonafide beauty junkies. And because our jobs allow us to try out just about every product on the market, from the storied cult favorites to the new-aged science variety, we tend to know a thing or two about which items are actually worth the investment. Plus, even we have to stock up on seconds and thirds once the samples run out. And what makes a beauty product more valuable to us? If it not only works, but also saves us time. Here are the items that top that list.
Noah Lehava
Senior Editor
1. Make Up For Ever Artist Rouge Creme in C405: It doesn't matter how lazy I get, I will always have a red lipstick stashed away in my bag or on my desk. A swipe of rouge is all I need to feel completely put together.
2. M-61 JetGlow Cream: I'm obsessed with M-61 and swear by all of their products. I don't like to spend too much time fussing over my skin, so a product that does all the work for me while I sleep is a literal dream.
3. Formula X The Fix: I've sworn off shellac or gel polish and my nails have never been healthier. I've even gone fully bare for most of the summer. I love this 5-in-1 treatment because it has a hint of blue tint in it to blur out and color correct my nails while strengthening them.
Jodi Taylor
Assistant Editor
1. Make Up For Ever HD Microfinish Powder: I'm just going to go ahead and say you're welcome, because you're about to fall in love with this product. I got introduced to it about a year ago and there was no turning back. On top of evening out your complexion and giving you a glow, this miracle worker also sets your makeup for all-day stay and better blending. Now you see why I'm hooked?
2. Foreo Luna 2 for Combination Skin: We all get a little lazy sometimes when it comes to our nighttime routines—and it's bad. Which is why I'm thankful for this guy. Not only does it cleanse my face, it also works as an anti-aging tool. 100% worth the splurge.
3. Tom Ford Creme Color for Eyes: When I came across this creme eye color in Opale I kind of, sort of fell in love. But since I'm not one for cream shadow, I had to find another way to work it into my beauty routine. So, it became my new highlighter. I swear I'm not crazy guys, trust me when I say that it works like a dream.
Alicia Cesaro
Senior Editor
1. Make Up For Ever Lipstick: I know lipstick might not seem the most low-maintenance or time saving of products, but as a post-work refresher on a bare face or in the morning when I just look well, tired, a bright lip makes me feel put together and ready, plus it takes all of five seconds.
2. Dermalogica Microfoliant: I've been religiously using (and re-buying) this exfoliating powder since we tested it out last year—and for good reason. You're supposed to cleanse beforehand but I almost always skip that part, and my skin feels baby smooth each and every time.
3. Charlotte Tilbury Wonderglow: Okay, this stuff. It's a skin hangover cure in a bottle, it's like little rays of sunshine on your face at all the right angles...or basically the equivalent of the pretty butterfly filter on Snapchat. It does one million beautiful things, from priming and moisturizing, to highlighting and boosting collagen. In the words of CT, it's a miracle in a bottle, darling.
Meagan Wilson
Editorial & Social Media Manager
1. Tria Hair Removal Laser: Ever since I dipped my toe in the water that is laser hair removal, I've been hooked, and have proceeded to treat pretty much every available surface. I liken it to the way people describe plastic surgery—once you start somewhere, you'll want to get everything else done, too. I've been dying to try Tria's at-home device as a more wallet-friendly alternative to seeing a professional.
2. Drybar Buttercup Blow Dryer: Drybar's blowdryer (the same one they use in their salons) has cut my getting ready time in half, while still being lightweight enough that I don't get those dreaded hairdryer arms (you know what I'm talking about). Did I mention yellow's my favorite color?
3. Clinique Pep Start Eye Cream: Last week I busted open a sample packet of this I'd received when I had to get up at 4 AM to head to the airport. Spoiler: it does what it promises. My undereye area was brighter, de-puffed and generally looked less sleepy. And who couldn't use more of that?
Emily Ramshaw
Senior Editor
1. By Terry Micellar Water Cleanser: This is the gentlest, most luxurious solution when it comes to getting stubborn makeup off in a hurry. Plus, it looks pretty in my medicine cabinet.
2. Burberry Beauty Fresh Glow BB Cream: You might not automatically think it, but Burberry makes some truly great makeup (thanks in large part to the genius that is Wendy Rowe), and the BB cream is my ultimate one-stop product. It's makes your skin look fresh and flawless, and you honestly won't need anything else.
3. La Prairie Skin Caviar Luxe Sleep Mask: Yes, this stuff is absurdly expensive, but hear me out. There's no better "time saver" than not sleeping, but still looking like you've had a full eight hours. Which is honestly what La Prairie's sleep mask will do for you. And the application brush is so amazingly soft, that putting it on becomes a ridiculously luxurious experience on its own.
Laurel Pantin
Editorial Director
1. Immunocologie Exfoliating Lotion: This is the most gentle way I've found to really exfoliate my skin. Nearly every time I get a facial I'm told I need to exfoliate more, and that my skin is dry, and I *think* it would be less dry if it was better exfoliated, which would let my moisturizers in better, yadda, yadda, this stuff is expensive, but super worth it, and cuts down on the time I otherwise would spend applying nineteen oils and creams. 
2. La Prairie Skin Caviar Essence-In-Lotion: So after I'm all exfoliated, I slather on a little of this stuff. It's the newest product from La Prairie (they only release a couple every year, because they have to be essentially perfect), and it's working wonders for my skin. While it's another step in my morning and evening routine, thus not exactly saving time, it's saving me a lot of time down the road when I don't have to have all my wrinkles lasered off, and then injected with snake venom and lighter fluid. 
3. Revitalash Advanced Eyelash Conditioner: I'm 1000% obsessed with this stuff. I credit my crazy-long, no mascara-needed eyelashes to a nightly application of this product. It's increased my lash-length by about a quarter, I'd say, and I no longer wear (or need) mascara—which also means no time taking makeup off at night. Win, win, win. 
Part of the series:
WWWRN