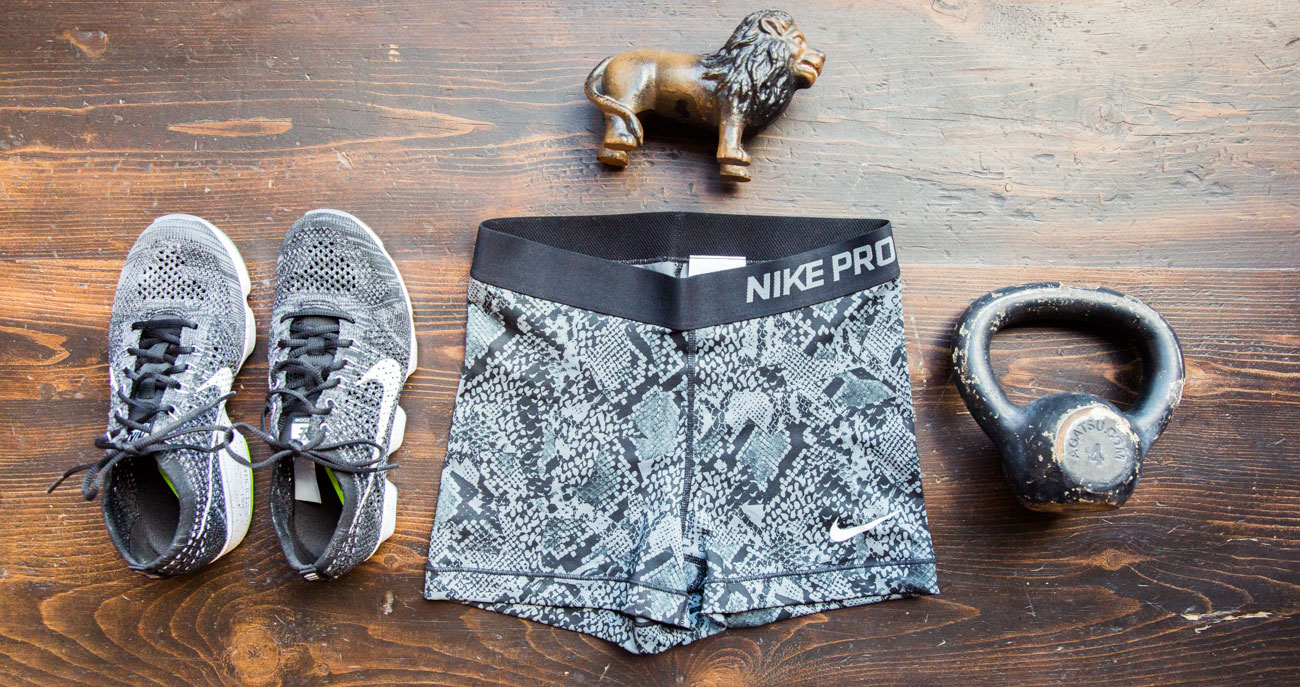 Our Summer Workout Routines
Remember, now's the time for resolutions.
Working out in the summer should be easy—think: laps in pools, long runs on the beach, and outdoor yoga classes. Or at least that's what our warm weather workout would look like in an ideal world. Sort of like how we imagine it would be like to live in California—sunshine with a side of six pack from all the exercise we'd do because we live in California and it sunny 365. Instead, there are lots of inner debates around 4PM about whether or not to reserve a bike in SoulCycle or even keep our ClassPass memberships at all (because couldn't we just run down the Hudson for free?). But The Cov HQ is holding steadfast in it's mission to become healthier more mindful adults, which is why we switch between group Physique57 classes and sidewalk cocktail sessions (balance, guys). For us, the incentive to stay committed to our (daily or, if we're being honest, weekly) workouts comes in the form of new workout gear and a fresh playlist.
Laurel Pantin
Editorial Director
1. MZ Wallace Tote: A sloppy gym bag is a one-way ticket to sad outfit town. I like this one because it holds everything, *and* goes with everything. Fancy. 
2. Nike Flyknit: Another thing I like: Flyknit. It's fun and stretchy and they snap happily around my ankles when I put them on. They're so light and cool, I can get after it outdoors without feeling like my feet are overheating. 
3. SLT: When I'm not exercising outdoors (and TBH, the most outdoor exercise I do is walking), I like classes at Strengthen Lengthen Tone. They're so hard, every time I go I swear them off, but then I always end up coming back. If the instructors' cut arms and abs are any indication, this shit works. 
4. Sweaty Betty Capris: Hands down, Sweaty Betty makes the best workout gear for women. These capris are made with fancy Italian material that feels incredibly thin and almost crepe-y. I have two pairs and they're in near constant rotation. 
5. Tula Urban Defense Hydrating Mist: When I am going on long walks outdoors, I'm always sure to spritz on a little of this mist under my SPF before heading out. The probiotic formula also has a ton of antioxidants, which helps protect my skin from pollution and free-radicals from the sun. 
1. Flagpole Swim Bikini: My ideal workout—especially in the summer—involves swimming. Preferably in the ocean, but I'll take laps in a pool, too. I ask a lot of my swimsuits, but mostly that they don't fall off as soon as I get in the ocean and that I'm able to swim in them. Flagpole's designs are classic, plus the fabric is pill-proof (key!!) and they stay put. I'm obsessed. 
2. La Roche Posay Sunscreen: Let's me count the ways I love La Roche Posay Sunscreen. I've waxed poetic about their face sunscreen here and here but I've started using their body formula, too. It stays on in the water for over an hour so I don't have to worry about UVA rays while drinking rum cocktails (I mean swimming laps) poolside.
3. Classes: ICYMI, I tried a whole bunch of culty New York City workout classes in one week. Since then I've been sort of rotating between them (albeit with a slight decrease in motivation). Nothing like committing yourself to a story just so you'll workout. Part two coming soon...
4. APL Sneakers: I need zero excuse to buy new sneakers. 
5. "Just a Lover" by Hayden James: The latest single by the Australian singer is fit for all your running/relaxing/drinking/working out playlist needs.
Meagan Wilson
Editorial Manager
Noah Lehava
Senior Editor
1. Personal training: I'm currently at the halfway point of a training program with Nike (read about it here), which means I'm running two days per week (unless I cancel—which is always), and another two one-on-one sessions with my trainer, Britt. It's the most challenging (because there's no hiding in the back of a class) and amazing workout experience I've had.
2. L'Occitane Hand Cream: Here's one thing I've learned about getting fit: I need to lift weights. Women don't eat enough or lift enough to bulk up (so, chill!) and it's the most efficient way to see a difference in your body. But, with weight lifting comes something weirdly unexpected: calluses on my hands. Gross, I know. To not put people off when shaking their hands, I use a super moisturizing hand cream, like this one, to soften them. 
3. Nike Leggings: Another amazing aspect of Nike's #UnlimitedPotential program is that I get to try out all the latest and greatest in their tech clothing. My absolute favorite are the Pro Cool Training leggings because they stay put and are super stretchy, so I never fear a split mid-squat. 
4. Herbivore Bamboo Charcoal Soap: I love a good bar of soap and this detoxifying one saves me from sweat-induced breakouts. 
5. Foam Roller: I foam roll before and after a workout (and really any time I feel tight). 
Emily Ramshaw
Senior Editor
1. Duski Bikini: This sounds weird, and doesn't make a ton of sense now that I live in New York, but my summer fitness method of choice is sailing. Not preppy, wooden boat and a glass of Sauv Blanc sailing (although I very much like that two), but small boat, hanging from wires, pulling a lot of ropes sailing. Now I only get to do it when I'm back at my cottage, but still: a utilitarian bikini that keeps everything together is very helpful. 
2. Supergoop Lip Balm: When you're on the water, any kind of SPF is key. All the more so on your lips. 
3. Tory Burch Sunglasses: I hate how "sporty" sunglasses look on me more than anything. These Tory Burch ones are polarized and far preferable to the Oakleys look. 
4. Venessa Arizaga Sunglasses Leash: To keep aforementioned non-sporty sunglasses on my person despite jostling and a flying boom. 
5. Nike Dri-Fit Shorts: Better than bikini bottoms when it comes to freedom of movement. 
Jodi Taylor
Assistant Editor
1. Adidas Tennis Crop Top: I owe a major thank you to a good friend of mine who dragged my non-athletic self to the tennis courts one day last month. Having not played for 6+ years I was definitely no Serena Williams, but after the first hour, I was hooked. To help fully dedicate myself to it, why not invest in a cute tennis outfit? This Adidas crop top would go perfectly with the tennis skirt I may or may not have bought last week. 
2. Hip-Hop Workout Apple Music Station: If you know me, you know I love hip-hop. Like, really love it. So when I came across this station on Apple Music I'll admit that I did a real life jump for joy. Whether I'm running, squatting, or just lying there on my mat daydreaming (JK, that almost never happens…) this station is always playing a song that is just right.
3. Philosophy Cleansing Cloths: I think these are pretty self-explanatory. I work out sans-makeup and get that perspiration off my face as soon as I wrap up a sweat sesh, all thanks to these magical wipes.
4. Studio K-O: Go once and you'll be hooked (no pun intended) on this box-fit training studio. Upbeat music, phenomenal trainers, and lighting that changes with the intensity of the workout. Enough said, no?
5. Thierry Lasry Flavoury Sunglasses: To me, summer is a time to take advantage of outdoor activities—workouts included. Whether I'm doing yoga on my roof, playing tennis, or doing sprints in the park, sunglasses are a must. Doesn't hurt when they're as good-looking as these ones by Thierry Lasry.