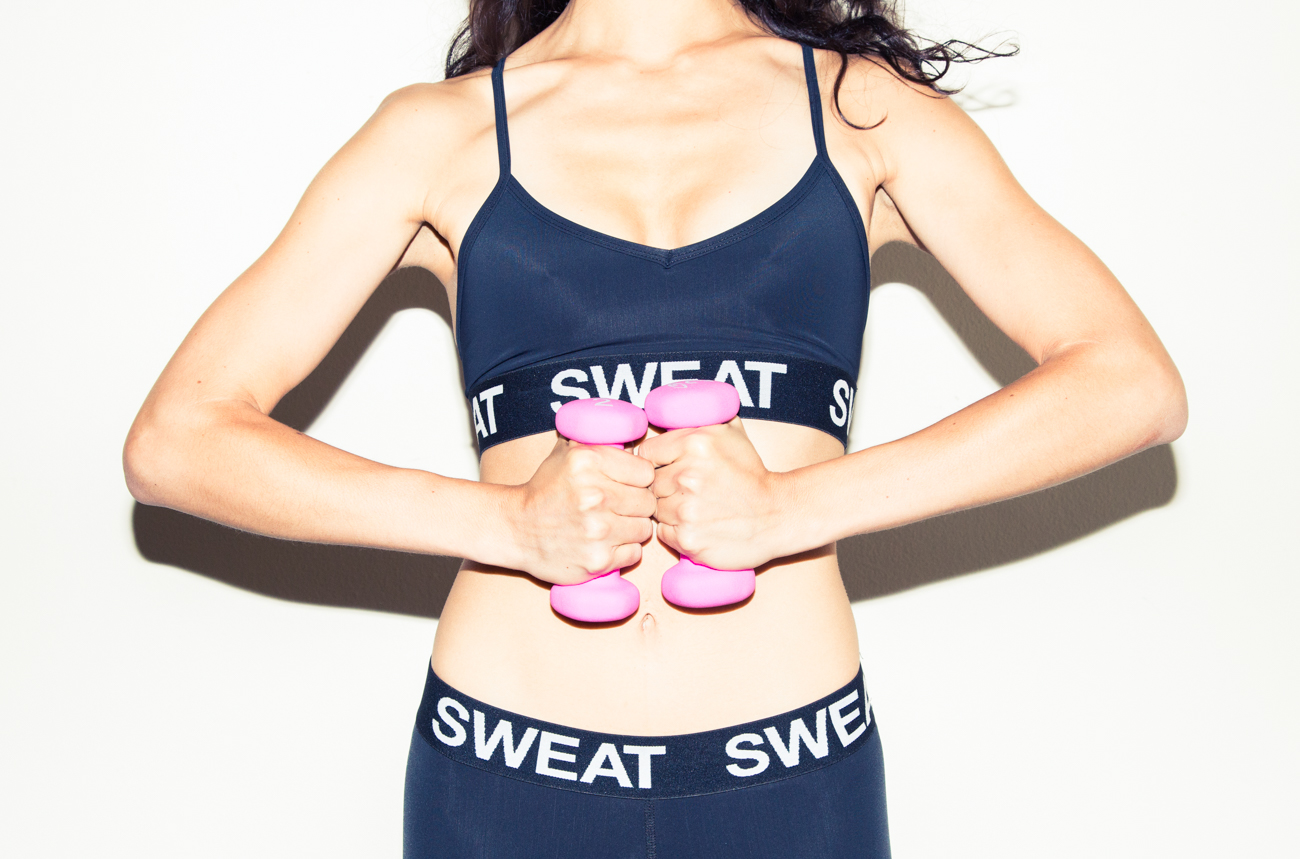 How to Get Summer Sixteen-Ready in Six Ridiculous Fitness Classes
Wherein we try all the weirdest workouts we could find, from Beginner Beyoncé to Drake Yoga.
Amy Schumer has a line in her standup routine about this sneaking suspicion she has every time she's offered a movie role or magazine profile.
"Like, am I maybe… gorgeous? Maybe I'm secretly gorgeous and just haven't stumbled on the right hairdo yet."
That's how I felt about fitness. Like, am I secretly an athlete? Have I been bursting with potential all this time and just haven't been given the right opportunities to flex my naturally toned muscles and born-with-it rhythmic gifts?
Well, it took trying six of the trendiest, least-conventional fitness classes I could find to prove that 1) HAHAHA and 2) um, no.
This was my genius plan: Pitch a fitness story that forced me to attend a week's worth of fun, non-Crossfit-y workouts. Finish the week with Hannah Bronfman's abs and the thigh gap of a preteen with a Disney channel show ("It was hard work, but so worth it," I'd exclaim, eating an ice cream the size of my face in one of those tops with a hole where the stomach should be). Maintain my sedentary and burger-centric lifestyle for the rest of the summer guilt-free. What could go wrong?
Spoiler alert: lots.
Here is my definitive guide to getting a lot sorer and slightly more toned (in certain light) just in time for Summer Sixteen, courtesy of six ridiculous (and actually way more fun than expected) workout classes.
Look up the word "oxymoron" on Dictionary.com and I'm pretty sure you'll find "Beginner Beyoncé" in the definition.
One does not simply Beyoncé. It is not a learned skill. Nevertheless, I found myself in a dance studio in downtown Toronto warming up to do just that, noting 1) I can't remember whether I've ever actually taken a dance class before, and 2) I'm the only person in the class not wearing shoes. Good start.
Our instructor Kiana (who was super friendly and made We The Swagless, a.k.a. my sister and I, feel welcome) leads us through a series of sassy struts to warm up before we launch into the choreography— a dancehall-infused routine to "Baby Boy" that's all hips, dips, and hair flips. It becomes immediately evident that some of the girls in this so-called-beginner class are either natural Knowleses or liars.
But by the end, even those of us legit Bey-ginners were starting to look like back-up dancers (albeit back-up dancers of the very elbow-y variety). With booty-pops flat as day-old soda and body rolls redolent of Gollum emerging from an underground lair, I finished. One down, five to go.
Where: Fly Studio
Works: Balance, core
Wear: Olympia Activewear jersey bodysuit or a tight tank and leggings, no jewelry (stud earrings included).
I walk in to Fly Studio the next morning filled with last night's patio beers and an inexplicable rage toward Jay-Z. The room is filled with silky purple fabric-cocoons hanging from wood beams and girls who appear to have never felt hangovers (or rage, for that matter) in their lives, only mindfulness and gratitude. Me and my stomach full of acetic acid are very excited to hang upside down together.
Our instructor's name is Ariel Grace, because of course it is. She asks if anyone is new to aerial yoga and mine is the only hand in the air (hurray!). We each position a mat under a cocoon and start by doing a couple of standard yoga poses using the silk for support. It actually felt really good—like a deeper version of a flow sequence that doesn't put any strain on the spine.
Then we moved into inversions, where I learned why you're supposed to always keep a strong core while I swung like a beet-faced pendulum in a room of static starfish. I was getting the hang of it (pun always intended) by the end of the hour, and by the time we all got to lie in our silk-hammocks for three glorious minutes of savasana at the end of class, I was an aerial yoga convert (highly recommend for those with back pain—I have scoliosis and felt like I'd just left a chiro session).
Where: Surfset Fitness
Works: Core, thighs, glutes, arms
Wear: Mara Hoffman leggings or rash guard, if you want to get really literal.
My sister, who I have yet again enlisted as my workout wingwoman, and I race in with precisely negative-one minute to spare (very on-brand for us) and straddle our surfboards. For those of you unfamiliar with Surfset, it's a workout on a board supported by inflatable discs that rock from side to side when you shift your weight. Again, we are the only attendees who've never done a Surfset class before (this seems to be a running theme) let alone actually surfed IRL, because sharks.
We start with a warm-up that makes it abundantly clear the Olsens were photoshopped onto the cover of The New Adventures of Mary-Kate and Ashley: The Case of the Surfing Secret. Once we were sweating from every orifice, we moved into a casually sadistic set of planks and lunges and things that would have involved weights had I not cheated.
The hardest part was staying balanced on a surfboard that I can only imagine played muse to Flo Rida's ghost rida when he penned "Wobble".
That said, this was the best full-body workout of the bunch—and we finished with a set of pop-ups which made me feel very Kate Bosworth in Blue Crush.
Where: The Drake Hotel
Works: Mind, body and LOL
Wear: OVO tank or Toronto Raptors jersey, CHILLBYWILL leggings.
Now here was a workout that felt more my speed. It was basically a VIEWS listening party where the Drake puns came first and the moderate movement came second. I walk in to the dulcet tones of "Feel No Ways." A still-bearded Drizzy pouted from a portrait at the center of a flickering shrine, accessorized with Toronto-themed tchotchkes and a tiny lint roller. I was home.
Our instructor Tara, sporting a "Running With My Woes" tank, runs through an hour first-class Drake wordplay, beginning with an "OVOhhhhm", moving into poses like the 6ix Goddess, the Downward Drizzy and the Prayer Hands, culminating with a "Know Yourself" in place of Namaste.
We bent over backwards for someone else. We turned our 6 mudras upside down (they're nines now). We savasana'ed to "You Could Do Better", but I beg to differ.
Sacrilege? Maybe. Blessed? Most def.
Later-That-Day Four
BEGINNER JUSTIN BIEBER
Where: The Underground Dance Centre
Works: Cardio
Wear: Adidas crop top, joggers, Yeezy Boosts. Accessorize with a sweatshirt tied at the waist and a small pet capuchin monkey.
I'm back for round two at the Underground, and to my horror, not only are we in the studio with a giant picture window facing a busy downtown street, but at the head of said studio is the same instructor as the Beyoncé class. I want to blurt out my ulterior motives and swear I don't actually plan to pursue another choreographed pop-star dance. And also apologize to any passersby who happen to catch me pop, lock and drop it like only a Scottish-Canadian girl can.
Luckily, more people want to dance like Bieber than they do Beyoncé, so my friend and I are able to sequester ourselves in a back corner. After an unfortunate jazz-square incident during the warm-up (to "Company", of course), I notice our neighbors have kindly given us a wide berth.
This time, our routine was to "Children"—and not the chill breathy first verse, but the chorus, which I'm willing to bet $1,000 Canadian dollars (approximately $38 American) was recorded during Skrillex's turn on the soundboard. We arm-waved, kick-ball-changed, chest-popped and melted like we were on fast-forward.
By the 35th run-through, I felt like I'd done two consecutive spin classes. And also a little like I needed an exotic pet.
Day Five
ALLEGRO BALLET BOOTCAMP
Day Five: ALLEGRO BALLET BOOTCAMP
Where: The Extension Room
Works: Muscles you didn't know you possessed
Wear: Ballet Beautiful leotard, or Olympia sports bra and cropped leggings.
Maybe it's my naturally prepubescent proportions or sunny-with-a-chance-of-clouds disposition, but somehow I was deluded into thinking I could pas-de-bourrée my way through a ballet bootcamp class without having ever taken an actual ballet class before.
I realize this error in judgement as soon as I enter the gorgeous, chandelier-lit studio, and a lithe ballerina in a sports bra and a headset asks if anyone is new to the class. Strike three. Only me.
"Have you danced before?" she asks me. You could slice root vegetables on her calf muscles.
Why yes, I've taken one Beginner Beyoncé and one Beginner Bieber class.
"Don't worry, it'll come right back to you."
It took all of three seconds of pliés and grand battements to realize that no, in fact, it will not. I looked more like a grand batîment—that's ballet for "large building"—landing each leap like a block of concrete encased in Lululemon. To make matters worse, I'd forgotten my water bottle at work, and so had filled a Styrofoam cup to the brim in the bathroom. I kicked it over with one swift (and technically terrible) grande jêté.
Not only was I doing my first ballet class ever, but I was doing it in a puddle of ballet-bathroom water.
I have suppressed the memory of this class for obvious reasons, but here's the gist: when they went up, I went down. Their arms extended into elegant curves; mine looked like Diamond Shreddies. They did pirouettes; I realized that it is physically impossible for me to move two limbs at the same time.
Cliff's Notes: Ballet Bootcamp is an awesome workout for those who have actually done ballet before. But, with the grace and flexibility of your Uncle Paul, I did every last minute of it. And then I had a burger.