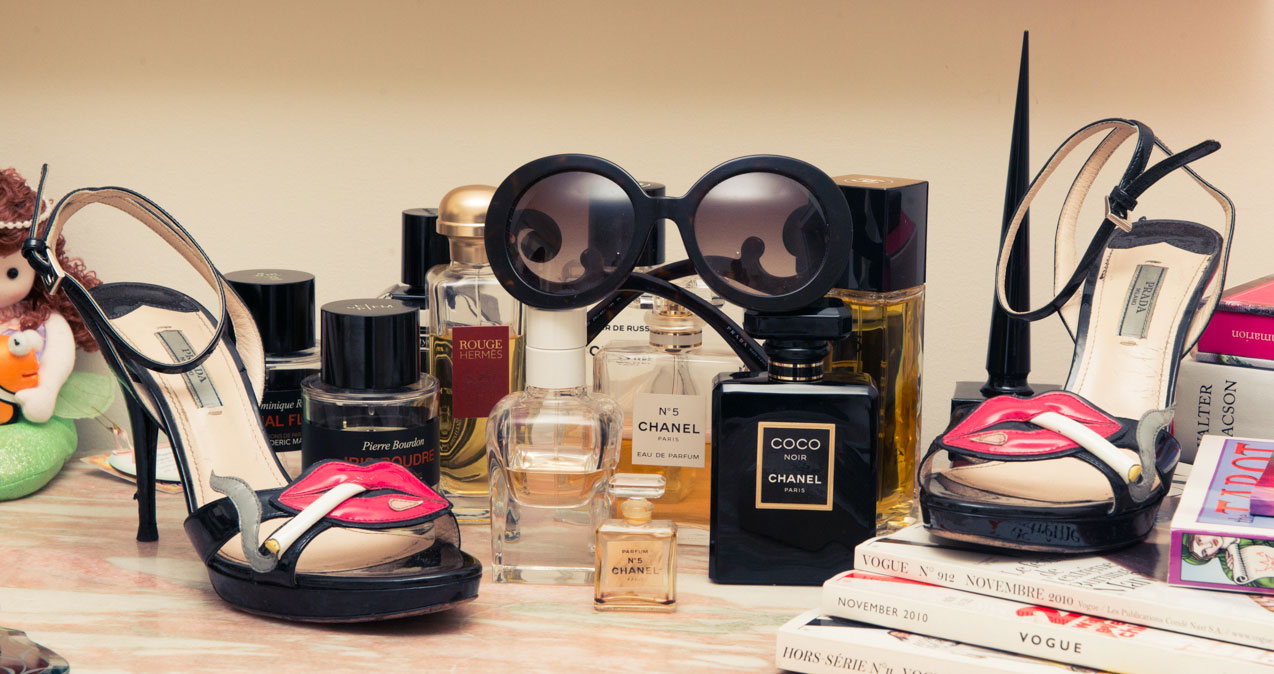 How Our Favorite Girls Do Summer Beauty
We went straight to the source.
Nothing calls for a more dialed-down, low-key approach to cosmetics like summer: you're probably going to be sweaty AF at one point in the day—as in, any makeup you apply will probably melt right off. With that in mind, the ideal look (for us, anyway) is all about glossy lips and lids, dewy cheekbones (sweat—nature's highlighter!), groomed brows, and (safely!) sun kissed skin—unfussy staples of some of our favorite girls. And so, we sent emails asking those same girls for a handful of their summer beauty favorites—right down to their hair removal process of choice, favorite SPFs, and even their philosophy on tanning. Hint: hydration and an all-purpose balm are about to become the cornerstones of your beauty routine.
Annie Kreighbaum
Executive Editor Glossier
Her ideal summer look:
"Wet! Like you just got out of the water—slick, shiny eyelashes and lacquered eyebrows and dewy skin. And a clean pedicure."
Tips for waterproofing makeup:
"Don't wear any!"
Her tanning philosophy:
"I think you really must earn a tan, it's like a souvenir from a cool vacation. So no, I don't fake it. I do like a little dab of Terracotta L'Eau Halee on my cheeks for a bit of color. It's super natural-looking—no flat powder or sparkles."
The one beauty product she can't spend summer without:
"Cherry Balm Dotcom. It's the perfect amount of color for lips when you're not wearing any other makeup."
How her routine changes with the heat:
"This question makes me worry that there are things I should be doing to prep my skin for summer, because I didn't know that was a thing. In general, I drink more water because it's hotter outside. I use a moisturizer every day that has sunscreen in it, and I will usually end up using a darker shade of foundation that I mix into my moisturizer or sunscreen because I get more tan."
How she keeps her hair in check:
"My current hair 'routine' consists of maybe two shampoos a week and I'm not sure I even own a hairbrush. I end up wearing my hair up a lot during summer because it's long and hot outside, so I'll try to find cuter ways to wear it up, like braids or cute ponytails."
Tips for waterproofing makeup:
"When it's hot outside, like REALLY hot, I don't think melt-proof makeup is possible. Especially if you have oily skin to begin with. Oil blotties and a matte makeup compact help to keep your face set."
The one beauty product she can't spend summer without:
"Burt's Bee's Chapstick. I was going to say oil blotties but to be honest, the best and most effective thing you can use are the toilet tissue seat covers."
Carlotta Kohl
Artist and Model
Favorite SPF:
"I like Vichy's products. They work well for my skin. They make a foam sunscreen that's easy to apply and lightweight."
Tips for waterproofing makeup:
"I was just on a job in Mexico where the makeup artist used setting spray. It really works! On my own, I would say less is more. You can mix your foundation with a light cream or your SPF so the coverage is more sheer. Use the humidity to your advantage and use a cream blush.
I also swear by waterproof mascara, despite the season—that never changes for me. It holds the curl amazingly. Maybelline New York Full 'N Soft Mascara, Waterproof, in Very Black is my all-time favorite."
Her tanning philosophy:
"I really do love laying out and tanning. I like the way it makes me feel, I like the way I look with a bronze. BUT! It's horrible for you, and I've made a decision to not do it any more for the health of my skin. I like Dr. Dennis Gross Skincare Alpha Beta Glow Pad For Body and Face. I have friends who swear by 'Tan Towels'. I'm gonna give that a try too."
The one beauty product she can't spend summer without:
"I love Rosebud Salve. You can wear it on your cheeks and lids and it gives you a warm, rosy glow."
Sharmadean Reid
Founder, WAH Nails
How her routine changes with the heat:
"I start slathering coconut oil everywhere, especially on my ass for bikini prep. I start wearing more skirts to let my legs and feet 'breathe,' and I switch up to an SPF moisturizer from La Roche Posay. I use a lighter foundation, like Bobbi Brown liquid foundation which is super sheer, and sometimes I get lash extensions to avoid wearing mascara."
Her tanning philosophy:
"I am blessed with God's tan, but that doesn't mean I don't TAN. Black skin gets dull too, and I hate going grey, pale or yellow in winter. I sit and tan as much as possible. I use coconut oil!"
Favorite exfoliator:
"I make my own with sea salt, lemon juice and tea tree oil."
The one beauty product she can't spend summer without:
"A sexy scent that gets stronger with the heat of your body. I'm a big Le Labo fan."
Julie Schott
Senior Beauty and Fitness Editor, Elle
Her ideal summer look:
"Naked Summer (when your body looks too good to wear clothes, Nikki Ogunnaike invented it), Rihanna on a boat, Thighbrows."
The summery products she stockpiles:
"I'm never prepared for Naked Summer, which is why products that work quickly are my best friends. Whenever I need to show a lot of unplanned skin, St. Tropez Express Bronzing Mousse makes my arms and legs look airbrushed in like, three hours.
How her routine changes with the heat:
"Laura Polko just put me on to Sun Bum's new 3-in-1 Leave-In Hair Treatment. It protects your color from fading and smells like Piña Coladas. And Ouai's Treatment Masques make crispy beach/pool hair feel soft again."
Hair removal method of choice:
"I keep it pretty bald year round in a few different ways. For bikini waxing, Strip Ministry of Waxing is the quickest, least painful. For underarm laser, Spruce & Bond. And for leg shaving, Schick Intuition's built-in shave balm streamlines the whole process."
Her tanning philosophy:
"Dr. Dennis Gross Alpha Beta Glow Pads for Body are everything. They exfoliate, firm, tan, and the individually packaged toilette situation means no nasty spills in your luggage."