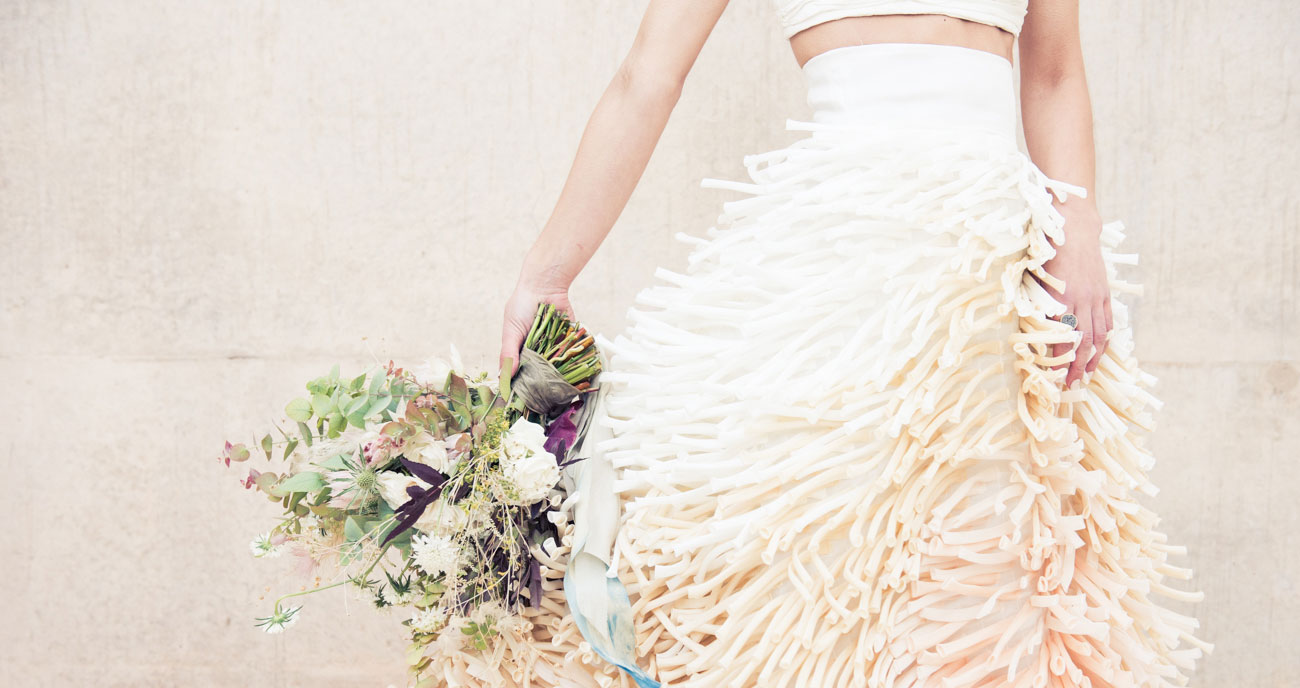 Your Wedding Style Horoscope
The dress the universe wants you to wear.
So you decided to get married. Congrats. Now that you've finished flaunting pictures of your ring on every social media channel imaginable, we know what's on your mind: The Dress. How will you find a gown that fulfills your massive sartorial expectations? Will everyone like it? Does such a garment even exist? Don't worry, we've made it easy for you. Whether you're actually prepping for your bid day of bliss or pinning to your secret Pinterest board (come on, we know you have one), your best wedding look is already written in the stars.
A Quick Astrology Lesson
To accurately read your birth chart, astrologers look not just at the position of the sun at the time of your birth, but also at what exactly all those other planets in the solar system where up to too. Your birth chart is essentially a map of the stars at the exact time you were born. Each planet has a unique meaning that's linked to a different sector of your life—your emotional responses, the way you communicate, your sex drive, etc.
When it comes to the astrology of style, Venus is the one planet you absolutely need to know. Yes, she's the love goddess, but she also reigns over fashion and beauty. So, naturally, your chicest wedding style will most closely resemble that of the sign she inhabits in your individual chart. For example, Venus in Leo feels as comfortable in a ballgown as she does in her Lululemons (but really, she prefers a little drama), but Venus in Virgo can't handle the fuss and opts for something sleeker.
Not sure what your Venus sign is? A professional astrologer can easily tell you, or if DIY is more your style, you can find it by entering your birth date here. However, the below descriptions apply to your sun sign as well as your Venus sign, so if you don't know your Venus sign then you can read this like a traditional horoscope.
Aries
March 21 – April 19
As the first sign of the zodiac, you're always the first to wear a new trend. Novelty is your aphrodisiac and your friends count on you for a rush of inspiration whenever they're feeling less than fired up about their own wardrobe options. The bridal separates look is perfect for a modern take on your wedding—think Bianca Jagger leaving St. Tropez in her gorgeous Yves Saint Laurent smoking jacket and skirt wedding set.
You're ruled by energetic Mars, so anything constricting is off the table. Your ensemble needs to allow for freedom of movement on the dance floor (and, ahem, beyond). Bring drama to your look with a touch of red, your Aries lucky charm. Red lips and Louboutins, anyone?
Taurus
April 20 – May 20
With Venus as your patron, it's no wonder you're drawn to sultry, romantic styles. No one can pull off old world floral quite like you. Choose ultralight pastel hues for maximum impact. For extra credit, try incorporating flower appliques a la Delpozo or Marchesa.
Women with Venus in Taurus are well known for their femme-fatale brand of femininity. Enhance your natural beauty with extra long hair, lashes, and nails (size matters here). Venus is also associated with luxury, so make sure your bridal agenda is packed with spa treatments and bottomless mimosas. Just in case you needed an excuse.
Gemini
May 21 – June 20
Mercurial in the extreme, the Gemini wardrobe is nothing if not eclectic. Conversation pieces are your specialty and your bridal gown is no exception—whatever you choose, it's sure to get people talking. If you're looking for a way to spice up The Dress, opt for tiers.
You're also a magpie at heart, so embellish your look with a touch of sparkle or an unexpected accessory. Gemini rules the ears, so a statement earring could do the trick. Or perhaps a jeweled clutch, to carry your treasures? Either way, make sure your objets d'art have a good story behind them.
Cancer
June 21 – July 22
Much like your lunar patroness, you're radiant in pale neutrals. You do pretty better than any other sign of the zodiac, which is why you can't resist the unabashed femininity of a blush-colored dress. Keep the rest of your look inviting and soft with elegant silhouettes, touchable fabrics (no tafetta here), and rosy makeup.
Cancer is known for being sentimental, so don't be afraid to incorporate a few personal touches into your bridal attire. Pearls, your sign's trademark gemstone, are also a must. Bonus points if they're a family heirloom.
Leo
July 23  – August 22
For sunny Leo's, the aisle is your runway. This is your moment to be in the spotlight. Lucky for you, there's no trend too over-the-top for a Leo to pull off, so ready your Pinterest boards…and your credit cards. If you're feeling brave, an oversize or sculptural bow may be exactly what your dress needs to set the party atmosphere for the night to follow. Plus it keeps all eyes on you, exactly where you want them.
If you want something more dramatic, Lionesses know how to pull off sex appeal without looking cheap—a skill that could come in handy in a corseted gown. Channel fellow Venus-in-Leo Dita Von Teese and turn your reception into your stage.
Finally, while we know you love gold, avoid letting your accessories compete with The Dress.
Virgo
August 23 – September 22
Let's face it, standing in front of a huge group of people and declaring your love to someone, no matter how in love you may actually be, isn't exactly your idea of fun. But if you have to do it, the least you can do is slay everyone in the room with a dress as elegant as you are. Virgo excels in coquette chic, so opt for a demure off-the-shoulder neckline.
Your sign rules health and wellness, so make sure your diet and exercise regimes are on point leading up to the big day. Virgos also adore skincare, so book yourself in with a good dermatologist ahead of your nuptials to make sure your skin is at peak health (we've tried these). Top it off with a cat eye liner.
Libra
September 23 – October 22
Venus rules Libra, so in her home sign, her energy is even more intense. Here, she bestows beauty fit for a queen, like Princess Grace of Monaco or Queen Bey herself. The regal Victorian trend was practically tailor-made for you. A high neck or delicate collar is the perfect choice. .
While you're at it, adorn your hair with one of the gold crowns we've been seeing so much of. There's a motif to suit every style: laurel leaves, flowers, and carousel-worthy angels. Last but not least, no Libra is fully dressed without the perfect fragrance.
Scorpio
October 23 – November 21
You're dark, mysterious, and sexy…but do any of those things make sense at a wedding? We say yes. Don't be afraid to let your sensual side show. A plunging back or deep-V neckline are great options for those who want to show a little skin, while keeping tradition intact.
Not into it? Shadowy eyes are a seductive alternative to your typical blushing neutrals. Venus-in-Scorpio women have a mesmerising gaze, so enhancing yours will give your already potent aura a boost and make sure your soon-to-be-husband stays under your spell.
Sagittarius
November 22 – December 21
Sagittarius is the zodiac's boheman, so naturally your wedding attire should follow suit. With expansive Jupiter as your ruler, you look wonderful in embroidery, lace, and anything that looks like you may have picked it up on a trip to an exotic locale.
For a daring take on boho-bridal, try a cape. Its antique sophistication provides the perfect contrast for your easy-going approach to beauty. The ideal Sagittarius hair and makeup look is lived-in and not too perfect, so don't overthink it.
Capricorn
December 22 – January 19
It's not that Capricorns dislike trends; it's more that they prefer classic beauty that will stand the test of time. Perhaps that's why so many Capricorns are minimalists, devoting themselves wholeheartedly to a uniform or capsule wardrobe. As far as bridal goes, you're in the market for something sleek and straightforward.
You know the power of an investment piece, so consider buying something you'll wear more than once. If nothing else, allow yourself to splurge on a beautiful handbag or piece of jewelry as a keepsake from the big day. For beauty, keep your makeup devastatingly polished.
Aquarius
January 20 – February 18
Aquarian women run the gamut style-wise. From Kate Moss's luxe-boho inspired wedding gown to the Royal Sarah Burton for Alexander McQueen creation, the only defining element of Venus in Aquarius style is that it's never what you'd expect. We'd make a suggestion for you, but you'd probably just do the opposite. Besides, we don't want to mess with your visionary style anyways.
At the very least, know that Aquarius is ruled by Uranus, the planet of rebellion. For best results, add something a bit avant-garde to your bridal ensemble.
Pisces
February 19 – March 20
Pisces people are vivid dreamers who much prefer fantasy to real life. Still, it's up to you to make your wedding day as magical as possible; starting with the dress. Oceanic Neptune is your patron, so an alternate color palette of lilac or soft blue would suit you well. Wear layers of gossamer thin fabric that float across the floor for maximum ethereal impact.
As a Venus in Pisces, you're a true romantic when it comes to art and style. What might seem saccharine on others seems a delicate homage to true love in your hands. Opt for fragrant flowers in your hair, braid crowns worthy of Game of Thrones, and a reception playlist to rival Mia Moretti's.