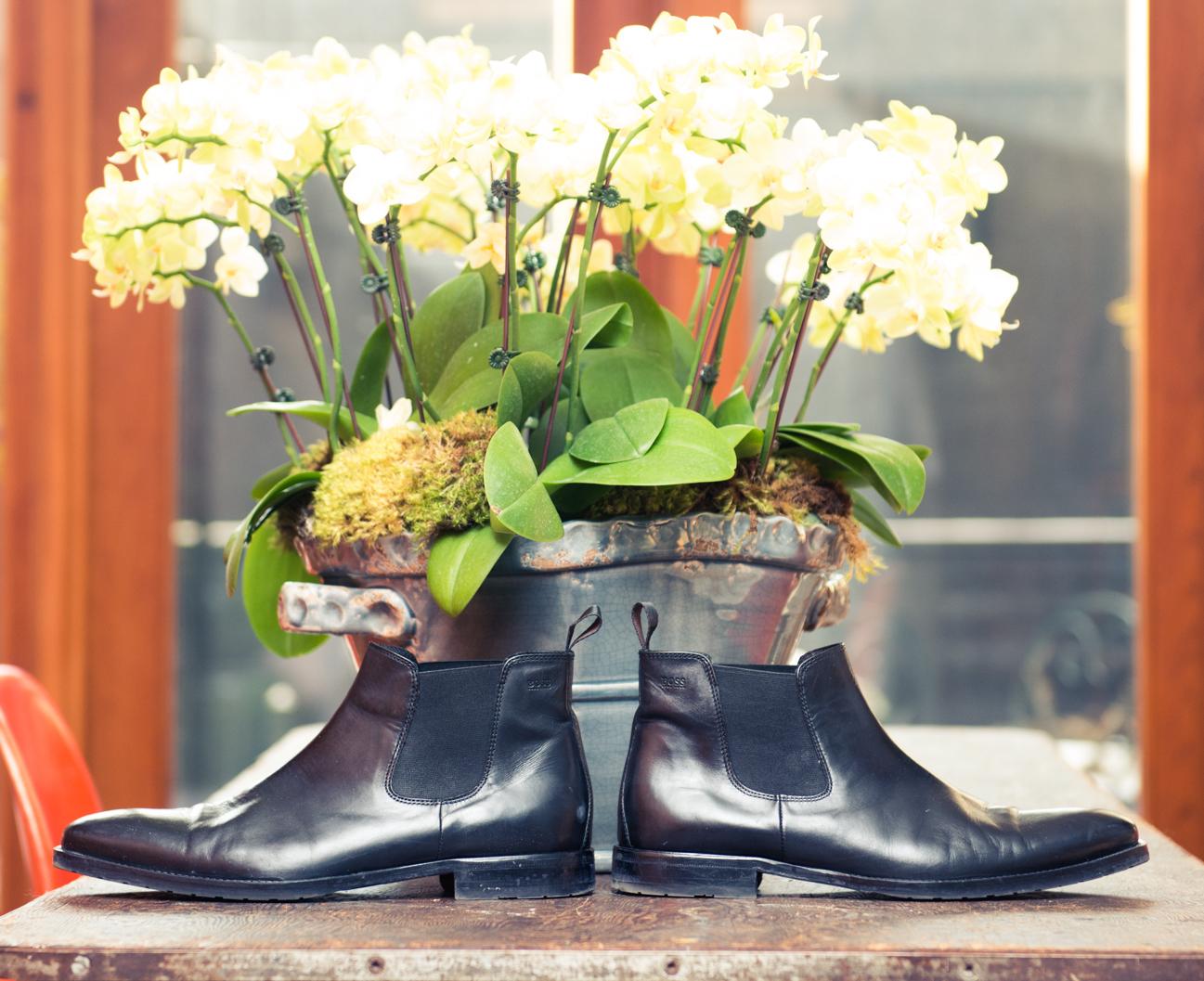 He Covers Weddings for the New York Times
The NYT's longtime 'Vows' columnist talks the good, the bad and the ugly.
Here's a little bit of honest to goodness truth: when we decided that the last week of May would be the first official Coveteur "Wedding Week" there was, well, some head scratching. Full disclosure: a grand total of zero TC staff are married. (No need to feel pity, people, these things happen in time.) That's not to say, though, that we aren't constantly surrounded by all things bridal—friends, family, Cov-alum—and we like some glamorous wedding porn as much as the next person (#nellandteddy anyone?).
And okay so we've attended (more than) our fair share of weddings, but we couldn't think of anyone who has Devan Sipher beat (when we asked, he couldn't give us a solid number, but a fair estimate is somewhere north of 800). Then again, that comes with the territory of being the New York Times "Vows" columnist—which he has been for seven years. So, yeah, that's a lot of weddings, and we can only image the kind of extreme only-while-wearing-a-white-dress drama he's seen unfold (if it sounds like a roman a clef, it already is: Sipher has written two novels based on his wedding scribe role). IRL, however, and on the phone with us he didn't give away any of his intimate sources. So what do you get from covering hundreds of weddings? Perspective for one—maybe that $800 chocolate macadamia wedding cake in the shape of your initials isn't as important as you thought, after all.
ON HOW HE ENDED UP COVERING WEDDINGS FOR THE NEW YORK TIMES:
"The truth is, I never intended to write about weddings for the New York Times. I never even intended to write for the New York Times. I never intended to write novels. When I was 17 years old, I was accepted to medical school and my parents are still trying to figure out what went wrong. [Laughs] I didn't last in medical school; not for not wanting to be a doctor so much as for wanting to do other things—wanting to be a writer. I took a leave of absence and the leave of absence kept being extended and extended and actually, I [ended up having] done a ton of other things. I was a presidential campaign coordinator, I was an information technology consultant, I was an entertainment news show producer, advertising copy writer, playwright—I've done a ton of different things and my resume pretty much looks like a manifesto for schizophrenia.
 
Fortunately for me, the Times seemed to like that and like me—not because they're partial to schizophrenics but they want people to have a broad background. I think that's true anywhere at the Times but especially in the wedding section. You talk to so many people from so many different walks of life and you have to very quickly be able to talk to them, hopefully with some amount of intelligence and charm. More importantly, I think any reporters primary responsibility is to be a bullshit detector, especially at the Times."
ON THE BEST PART OF HIS JOB:
"The best thing about being the Times wedding reporter is, on a good day, you know, you call people up to tell them why you're calling and you get these giddy brides, screaming. People want to be in the paper, as opposed to when you're trying to get a quote about some awful thing that's going on and people don't want to be in the paper. It's reinforcing positive things; people in general are happy to hear from you. Fortunately, I get to meet fascinating people. I get to talk to so many different types of people. Being a journalist, you're getting paid to be curious and it's even more true when you write about weddings because, really, I'm asking about everything. You're interviewing the bride, the groom, the bride's parents, the groom's parents. You get to ask anything—what brought them here to this moment? It incorporates pretty much everything."
ON THE CONFESSIONAL NATURE OF THE JOB AND GETTING TO THE REAL STORY:
"I feel there's that kind of a clergy aspect; people confide in me. People with PhD's in psychology would say to me that our sessions were like a really intense psychotherapy session. I've had clergy compare notes in terms of what they do, comparing it to my conversation. Hopefully that's what makes me good at what I do, that I can get people to trust me. There's no real reason to read a long story about a wedding because you know how it's going to end. There hasn't been a single 'Vows' column that didn't end with the subjects getting married, so how do you keep the reader engaged? You have to tell interesting stories. You have to penetrate something true and raw and real."
ON HOW LONG EACH STORY TAKES TO PUT TOGETHER:
"I could spend 80-100 hours on a piece. I try not to, but I many times do. I rarely spend less than 40-50 hours on a piece and usually it's between 60-80. I do three interviews with the groom, three with the bride—they have to be separate and they're not allowed to be in the same room. Each interview is an hour to two hours long. There's about an hour of prep. It adds up. By the time I arrive at the wedding, I've usually already invested 20 hours. Usually it's six or eight hours of wedding day stuff and then any interviews."
ON HOW HE CHOOSES THE WEDDINGS TO WRITE ABOUT:
"People assume that there's some methodology—people assume that it's about who's rich and famous, which is not true at all. What we're looking for is the same as any newspaper article: what's interesting? My editor reads every single submission. People ask me how you get in the paper: marry in January or February and you just increased your odds tremendously. From spring through fall, it's pretty crazy. Myself, when it comes to covering a couple, I'm looking for someone I want to spend time with. And is there a story? If two people met when they were seven years old and started dating when they were 12 and they are getting married at 24, that's lovely but there's not a lot there. For a story, something happened, there's an obstacle. I tend to prefer older couples just because if you've lived longer, you've experienced more. There's more likelihood that the story has more chapters; there's been more effort, there's been more success and failure at finding a match and that makes the ultimate success of someone finding somebody to get married to, not necessarily more meaningful, but more resonant. This person has strived for something and they've gotten there, like any hero's journey to put it in large terms.
 
There was one story… I think maybe they had their first kiss when they were 10 years old at camp. Then they got married in their eighties—that's incredible. They may have even dated briefly as teenagers, but then they drifted apart during World War II. I had this amazing story where a couple dated intensely in their twenties and broke up. It was this devastating break up and he wrote her love letters every single day for a year after they broke up, begging her to get back together. They didn't get back together, but she didn't throw the love letters away. Thirty, forty years later, I think she was divorced or widowed and cleaning out her house and she finds the box of letters and she's reading these letters crying in the middle of the night and she decides she has to find him. She finds him and he's a widower—he'd just lost his wife the year before that. In any case, they got married. She found him travelling in South America, somewhere on a mountain. It doesn't make their love any better than someone who's 22 and getting out of college and getting married, but in terms of reading a newspaper story on a Sunday morning, it makes for a good story."
ON WEDDING TRENDS THAT COME AND GO (AND ONES THAT WOULD BE BETTER GONE COMPLETELY):
"There's one trend I'm hoping is gone: the rehearsed bridesmaid performance—the bridal party performance at the wedding, kind of like the first dance thing. It's a little strange but was becoming fairly popular for a while.
 
One of the trends that is still going on and it definitely started while I was doing this was the switch of costume during the evening. Some brides can't decide what they want to wear and choose two or three dresses. I think it only exists at a certain economic strata. For many people, they still would view that as a very odd thing but it's common at that certain level. There is a logic to having something fancy and formal for the ceremony and having something comfortable for dancing later."
 I will say this, it's amazing how many brides will tell me how they purposely chose bridesmaids dresses that their bridesmaids could wear again and then they look at the bridesmaids dresses and think, 'What planet is the bride on?' That, shockingly, stays consistent. I do think the average bridesmaid's dress is probably more wearable than ten years ago or twenty years ago but still, a bridesmaid's dress looks like a bridesmaid's dress. It may not be the puffy ones from the eighties but brides still have this really strange notion of what constitutes a bridesmaid dress. It's a very overpowering experience—it's an emotionally rich and exhausting experience. People have so much to do and get carried away with it. There are some weddings where they will just tell people to pick a color and the bridesmaids wear what they want. Someone should do a study whether the general temperament of the bridesmaids at those weddings compared to the one's where the brides choose."
ON WHY THE SUPERFICIAL ASPECTS OF A WEDDING DON'T MATTER:
"I'm so much more focused on the story of the individuals that, if anything, I try not to pay too much attention to the more superficial elements. When I call them superficial elements—they're not superficial elements, they're just superficial to the story of why these people are getting together. All these things that makes these weddings beautiful to look at—and there's a lot of beautiful places in New York—but when people try to impress me with the details, they'll tell me five times that they spent $38,000 on their wedding dress thinking that that's going to impress me, it actually does the opposite. There are entire nations that probably have less than that for a gross national capital.
 
The truth is, if I didn't choke up at each wedding that I go to, I wouldn't continue to do this job. I am so invested in these people's stories. Each wedding ceremony is unique; the way they look at each other, the words they say to each other. The truth is: a reception is a reception, is a reception even if it's all Swarovski as opposed to Dixie Cups. When the jackets start coming off and people get dancing, the Rockefellers don't look any different from anyone else, and I've covered Rockefeller weddings."
ON COVERING LGBT WEDDINGS:
"Same sex marriages, especially in New York, have become common place and that's been a very fast transition. I wrote a story in 2007, where I interviewed people on all sides of the issue and it looked like it was going to be a very, very hard slog. The forces against were pretty darn strong and seemed to have the majority of the population's opinion on their side in terms of religion. We're either going to soon have 50 states legalized or certainly a majority of states, so that is huge. Do same sex weddings look any different than heterosexual weddings? I haven't seen any difference; they can be as small, as big, as quirky, as traditional."
ON THE SECRET TO MAKING YOUR WEDDING SPECIAL:
"Usually what stands out is really the couple. It's more about the environment they create. Yes, you can have a beautiful environment and that's lovely, but a wedding is more about people coming together—it is a joining and a union for family and friends. It's easy for the wedding to become a show, I mean, they're putting on costumes, it becomes part of the process. I think the wedding stands out if the bride and groom are very much present—it sounds kind of corny—but they're present, they're there truly experiencing the moment. The bride is there enjoying this moment with her friends and family and future husband. There's such an inclusion—we're not just observing these two people. Those weddings stand out. The brides and grooms who succeed at that have very special weddings."