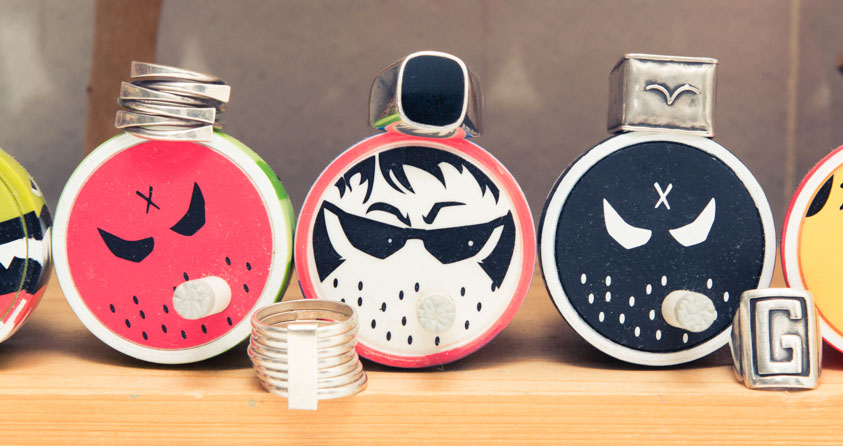 Editors' Picks: Our April Fools' Day Pranks
JK. It's actually everything hanging out in our online shopping carts.
Chain-link crop tops (bringing us right back to Clueless days), swishy, seven-tiered fringe skirts that were basically made for Boomerang, pom-pom decorated lunch bags, licorice-like gem earrings and, yes, even more (!) chokers. No, our editors' favorites this week aren't one big April Fools' joke, we promise. We're actually all locked in a game of back-and-forth between our conscience and credit card over these items. The other thing that's not a joke this week? Cov alum Laurel Pantin joining the team as our Editorial Director :point_down: (Btw, Laurel, we think you should totally buy the aforementioned skirt in celebration. Just saying.) Happy April (and almost weekend!), guys.
Laurel Pantin 
Editorial Director
1. Stella Jean skirt: Not sure if this skirt is crazy wonderful or crazy crazy, but, to be honest, I don't really care! I love it.
2. FRS star print dress: I think I'm really late to this party, but I just discovered Front Row Shop and I'm super into it. Especially this swishy star print dress.
3. Belif The True Cream Aqua Bomb: This stuff actually is the bomb. 
4. "Work" by Fifth Harmony: I really like this song, but I REALLY LOVE the video. It makes me want to buy a tool belt and a hard hat.
5. Better Call Saul: Better than Breaking Bad, in my opinion. I'm obsessed with this show.
Meagan Wilson 
Senior Editor & Social Media Manager
1. Maria Black choker: When I find a good choker (or anything I love, really), I wear it every damn day. I'm pretty sure this has the potential to take the honors.
2. Sept 5th by dvsn: OVO knows how to pick 'em. dvsn is one part producer (Paul Jeffries, who made Hotline Bling) and one part vocalist (Daniel Davey). Listen to "The Line" and you'll see what I mean.
3. Ellery top: Just in case you need to air your elbows out, you know?
4. Lindsey Hampton: Remember how I was obsessed with textile artists for a sec? My next step into weird hippie mom-dom is my latest Instagram k-hole of choice: pretty, pastel-y ceramics.
5. Jil Sander sandals: This buckle and shade of camel are everything.
Emily Ramshaw
Senior Editor
1. Vintner's Daughter: This serum deserves the cult following that it's developed. It's pretty much straight-up oil, and I was afraid (of inevitable breakouts), but the stuff is not only extremely moisturizing, it also seems to minimize my acne (is that even possible?). Plus, the minimal commercial branding appeals to my keep-it-simple instincts. 
2. Modelfit: Since I moved to New York, the first thing people ask me when I meet them is if I've found my "class" yet. As in, have I discovered the boutique fitness studio to which to devote my body transformation and a large portion of my paycheck. The scene is intimidating to say the least, and I avoided going to any for a long time. But last week I was persuaded to go to an early morning Modelfit class—and I was happily surprised to find it was J.Lo themed. Just for that, I would go back. 
3. Alexander Wang top: Am I too old to wear crop tops? Serious question. For years, they've made up the majority of my extra-curricular wardrobe. And I still gravitate to shirts that are missing a few inches of fabric at the hem. So, eff it—this chain-strapped version by Alexander Wang is just about perfect.
4. Broad City: This show has ruined television for me. Usually by the third season I've long lost interest in a show, but this one keeps getting better—and funnier. And now there isn't another show that measures up.
5. Tulips: I have too many random vessels filled with tulips in my apartment right now. Scratch that: no such thing as too many tulips.
Noah Lehava
Senior Editor
1. Batman v Superman: I've heard what the critics have said, and I just don't care because...Henry Cavill (!!).
2. Prabal Gurung dress: This frothy dress makes me wonder what possible event I could go to this summer to warrant its purchase. Any ideas, guys?
3. V Jewellery earrings: I've been following this jewelry designer on Instagram for over a year now, but (and I'm confessing here) I've never actually visited the site. And guess what? It's totally affordable! These will be my first of many purchases.
4. Tom Ford fragrance: Summer might be close, but one spritz of this scent and it transports me to warmer places—even if just for a second.
5. Stella McCartney bag: On that same springtime course, this bag is just so floral. I need it.
1. Elena Ferrante's Neapolitan Novels: Full disclosure—I made Emily rapid-fire list her all-time favorite books so I could load up my Kindle. Because that lull after finishing a book and not having another one to immediately dive into is the worst. Ferrante's four-book series has me set for a while.
2. Ellery blouse: This top just took the whole off-the-shoulder thing into every-occasion territory with its impeccable linen tailoring and that deep navy shade. 
3. Burberry eye color: I'm not really a fan of eyeshadow, but this pen may have replaced my go-to gel liner. At the risk of sounding way too beauty blogger-y, it's super-easy to just swipe on (even sans mirror) and the color payoff is subtly smoky and a v. pretty charcoal. 
4. Proenza Schouler bag: Truth: I want this bag just because it's a pom-pom-decorated "lunch bag." Now watch me obsessively try to keep it clean for all of two seconds. 
5. "Down" by Marian Hill: This week's song coming at you with a mix of techno, jazz and the lead singer's soothing voice. Should I just start a Spotify playlist? Probably.