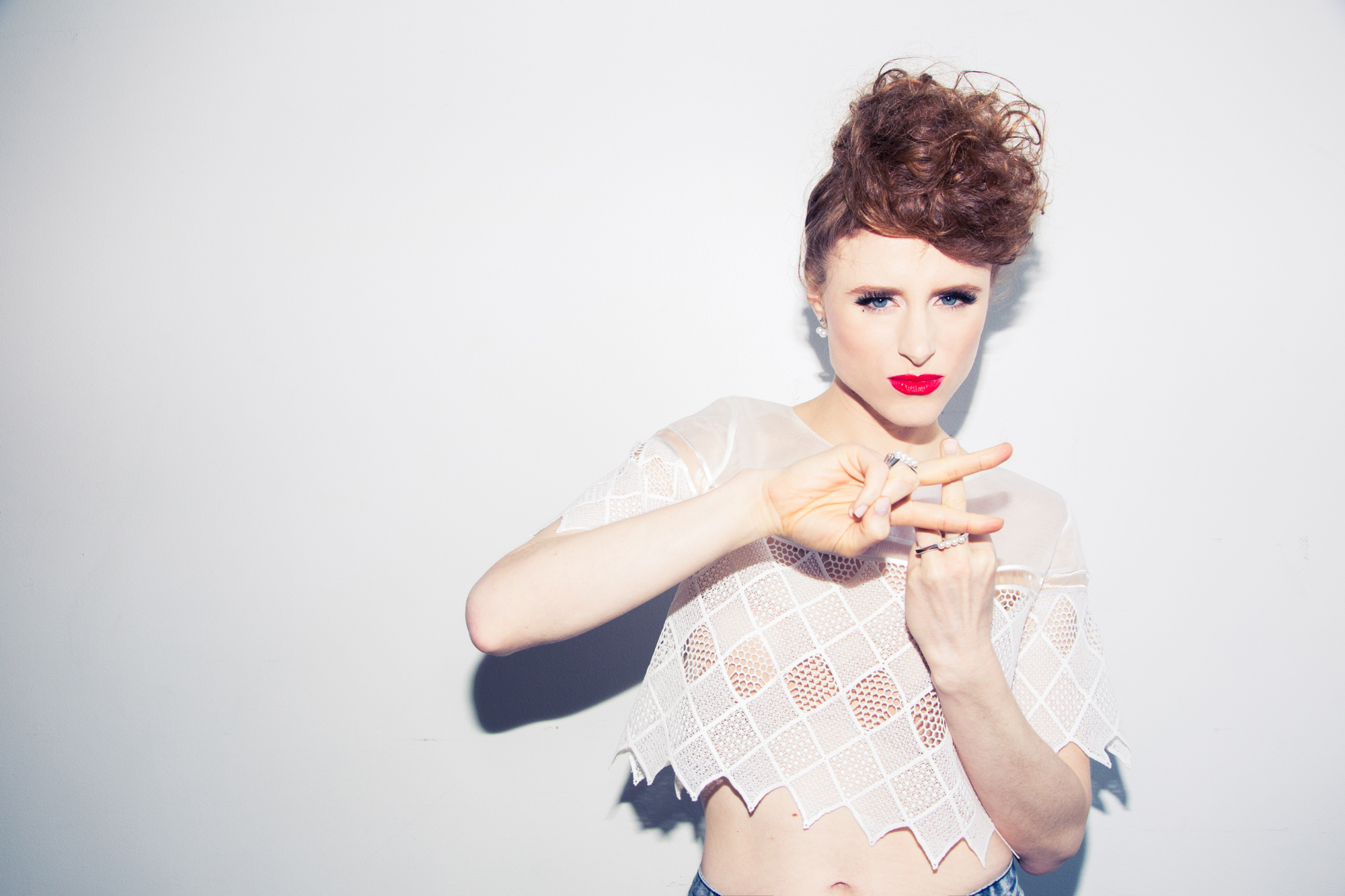 Inside Kiesza's Beauty Routine
The Hideaway singer on her secret weapon, drug store go-to and the importance of taking risks.
We've been trying to perfect the no-makeup makeup look for going on a year now. As much as it's still completely desirable (who doesn't want to look as naturally flawless as Vanessa Traina and Caroline de Maigret?), it's also totally frustrating (turns out it's really, really hard to look as naturally flawless as Vanessa Traina and Caroline de Maigret) and, well, kind of really boring. So when we met electro-pop sensation Kiesza on set during her Birks Rock & Pearl campaign shoot, we decided to get over ourselves and ask about her signature defined lash-red lip-fauxhawk combo. Our takeaway: the whole no-makeup makeup thing is likely more trouble than it's worth.
From what we can tell from Kiesza's pep talk ("It's about trying new things!"), the point of beauty might just be to have fun with it. Not that good skincare isn't important (drinking mucho H2O is the touchstone of Kiesza's whole routine), it's just that we should probably learn to relax a little bit when it comes to such things as hair experimentation—we mean, we've never seen a fauxhawk turn out so well.
On her beauty philosophy:
"My personal beauty philosophy and outlook in general is just amplifying your inner self. Obviously we all have very different personalities on the inside, and beauty is just finding a way to show what you're feeling on the inside to the world. I love making a statement, but I also love simplicity.
I love to play around with different colors and different looks. Sometimes I go a little more heavy, and sometimes I like to go really simple. It depends what I'm doing or what my mood is that day—if it's summer or winter. I like to amplify one feature at a time—the eyes one day, maybe it'll be more about the lips another day, maybe the eyebrows. Or there are days where I'll go full out. Every time you do your makeup, it brings out another side of your personality. When you walk out the door, feeling a certain way, you feel different. It's really fun; it's like painting. I feel like your face is a canvas in a way and it's limitless. The most important thing is just having fun with it and being risky. It's about trying new things, but also just being comfortable in your own skin."
On her daily routine:
"I wash my face every morning and every night… and sometimes, depending on the day or the country, in the middle of the day I'll wash it as well. I have drier skin naturally, so I moisturize a lot, and I really try to drink a lot of water. I've found, more than anything, that you can buy the most expensive skincare, but one thing that always stays the same is drinking water—it really, really affects the texture of your skin and how you wear makeup and just out your feel, too. It's the secret weapon. Everything in life, they always say drink more water. If you want to sleep better, drink more water. If you want your skin to look better, drink more water. If you want to live longer, drink more water. If you want to be another athlete, drink more water. If you want to have a clear head, if you want to be happier, drink more water."
On finding a great conditioner:
"Marc Anthony released a new line for Morocco Oil, and they have this hair conditioner treatment. They actually have this whole line—they have shampoo and hairspray—and it has no sulphate, which is really cool. I like the whole line, but I especially love this deep conditioning treatment. I have the driest hair, so for me, finding a good conditioner is everything and I put this in my hair and actually notice a significant difference after using it the first time."
On her favorite drugstore product:
"If you want a not-to-expensive skin treatment—and I have dry skin, so I don't overuse it—but there's this stuff call Phisoderm, and it balances out the pH on your skin. You just leave it on for like a minute—or not even, in my case—and it actually works really, really well and kills all the bacteria."
On her signature fauxhawk:
"When I was a writer—and this was before Hideaway, before everything—I was just trying to network and get to know more people in the industry, so I went to L.A. during Grammy week when they had lots of parties and lots of events and I felt like I needed a new hairdo. I thought it would be fun to rock a mohawk, but I didn't want to shave the sides of my head, so I did the closest thing I could come up with that looked like a mohawk to me. And I realized that this hairstyle, even though it's just one look, there's so many different ways to do it. And becuase of that, I just ended up keeping this style. I didn't even sit and think about it. It just sort of became my signature hair before I ever did my own projects. It wasn't something I thought of for my music. It was something I loved and started doing."
On her beauty icons:
"I absolutely love Audrey Hepburn as a beauty icon; Marilyn Monroe. I also like looking at different rock stars as well. I love David Bowie and Michael Jackson. I like people who create a persona or take big risks."