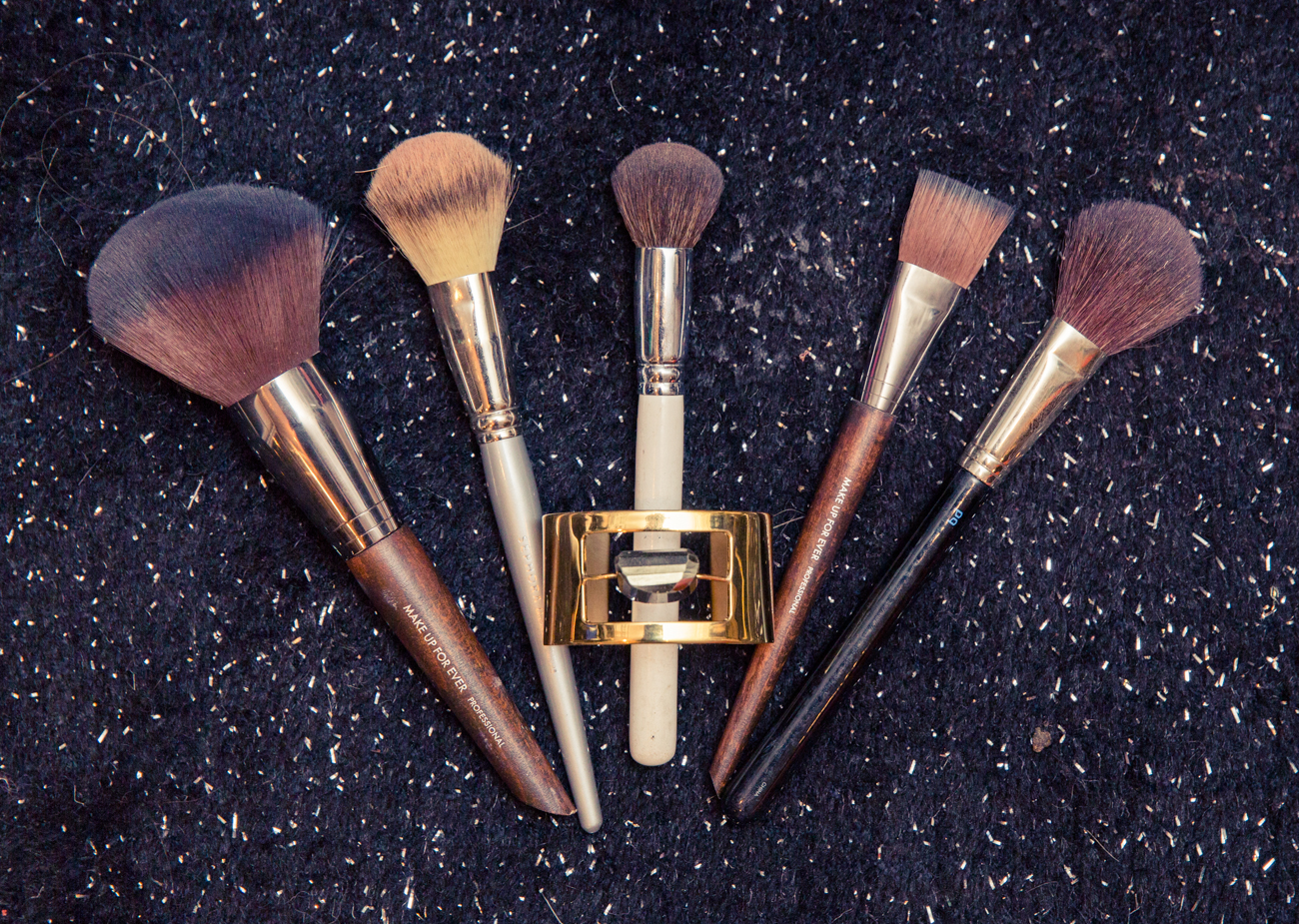 The Definitive Makeup Brush Guide
Because there's more to choosing your makeup brushes than big, medium and small.
Ever since our first pre-teen foray down the florescent-lit drugstore makeup aisle—we mean, if the girl in the dELiA*s catalogue was wearing sparkle-enhanced peach lip-gloss, so were we—we've been plagued by one nagging question: what the eff is that fan brush for? And if you're anything like us and have gone through your beauty career judging your makeup brushes by whether or not they fit the circumference of your NARS pressed powder container, you can relate. Rather than highlighting—literally—our best features with strategic makeup tool usage, we end up reaching for the same brush for all of our products, blending our skin into that ugh-inducing shade of burnt-orange-of-prom-spray-tans-past we've spent years trying to erase from our memories. It's a work in progress, kids.
But the idea of deciphering our brushes past small, medium and large is, well, daunting. Synthetic or natural fibers? Round brush or flat? Pointed or straight? You get the somewhat blurry picture. So in order to move past our bristle phobia (and those recurring matte tan nightmares), we enlisted the help of Dior's international makeup designer (#whatever), Violette, and makeup artist Beau Nelson (i.e. the brains behind the blush of Nicole Richie, Kristen Stewart and Jessica Biel) to school us on their makeup brush arsenal and everything from concealer to Kabuki.
On their top three makeup brushes:
Beau Nelson:
"1. MAC 159 Duofibre blush brush, but I use it for foundation. I like this brush because of its versatility; I can use it flat like a traditional flat foundation brush and brush the foundation on, I can buff the foundation using the ends of the fibers in small circular motions, and I can use a tapping motion to create coverage."
2. Surratt powder brush – great for both sheer applications of loose powder or bronzer and I also sometimes use it for blush.
3. MakeupForever Definer Eyeliner 256 is one of the most used brushes in my entire kit. I use it to apply shadow as liner, gel liner close to the lash line, and it's my number one tool to help create a perfect hipline or a razor sharp feline flick. I wet it slightly with makeup remover and use it to perfect my edges, cleaning it off between swipes."
Violette:
1. "A small [Cozette] blender blush brush to apply highlighter on the cheeks, middle of the chin, [and] Cupid's bow.
2. A [Dior] eye blender brush to use in the [eye] crease area or to smooth out [eye] contour.
3. [My MAC] eyeliner brush. I like [the brush] small, very thin and firm. In general, I prefer small eye brushes to be more precise.
…On the best brushes to use for foundation.
"I think it depends on the type of foundation I use and of course the skin! But I prefer using my fingers. In the case of acne prone or very dry skin, I use a wedge shaped sponge to really make the skin absorb the foundation." –Violette
On the best brushes for concealer:
"With concealer I use a synthetic brush to be more precise and a very thin one to hide small blemishes." –Violette
On the best brushes for overall coverage:
"Anything that has a bit of flexibility can create coverage. Look for synthetic bristles for this purpose as they tend to be a bit stiffer than natural hairs and will not absorb the product. The best way to create coverage is in a tapping or stippling motion." –Beau
On the best blush brush:
"Wayne Goss brush 11 is large and slightly rounded, so it applies blush beautifully and diffuses the edges for you. It's ultra soft and luxurious so it feels great on my clients' faces." –Beau
On the go-to brushes for eyebrows:
"For eyebrows, I love [to use] a spoolie brush to brush up the hair and then I add some hairspray to really fix it. I'm obsessed with the perfect eyebrow!" –Violette
On their favorite brushes for lips:
"For lips I love my Addiction Japanese lip liner because it's firm and square for better control." –Violette
On natural verses synthetic bristle brushes:
"This all depends on the purpose. Generally, I use creamy and liquid products with synthetic brushes and will use natural bristles with powders and crème-powder products." –Beau
On when it's appropriate to use your fingers instead of a makeup brush:
"I don't think there is a special rule for [using your fingers verses a makeup brush]. I prefer using my fingers in general; it's my most trusted tool! I can really warm up the foundation and 'feel' the skin under it." –Violette
Oh and BTW, that fan brush? It's used to apply blush, blend makeup, highlight and clean up runaway powder. You're welcome.
—Naomi Nachmani