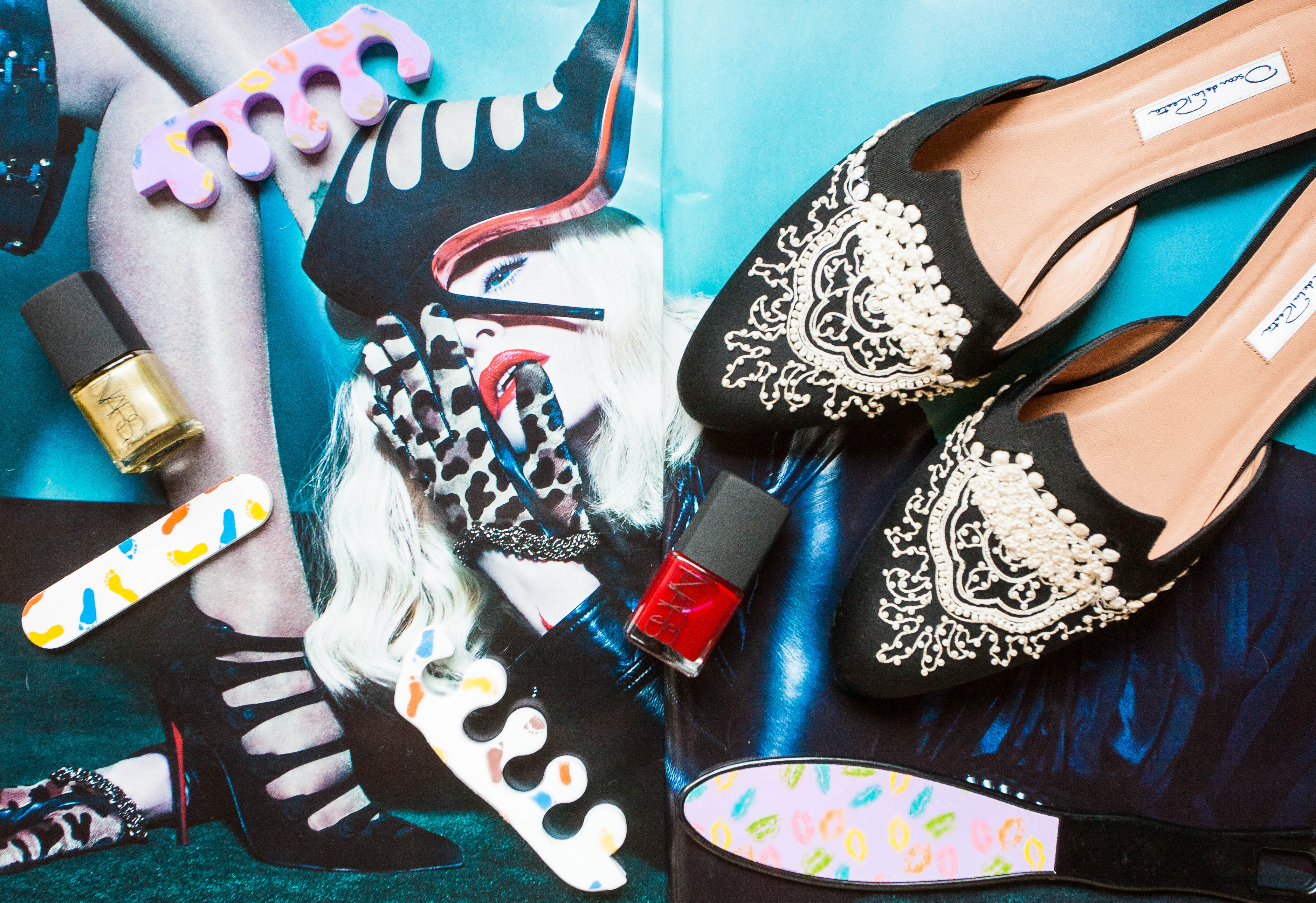 DIY Pedicures: A How To
Just because you're not wearing sandals for six months doesn't mean you can just forget about them.
Ironically enough, there are a whole lot of, well, let's call them speed bumps, in the pursuit of beauty that are actually pretty gross. Raise your hand, for example, if you've found yourself fascinated by a blackhead-filled pore strip. Or have ever been tempted to ask a facialist to see the remnants of everything she just proceeded to squeeze out of your face. Even sweating in a sauna! There's just something deeply satisfying about the entire process. Which brings us to the subject of feet.
We don't know about you, but our feet take a lot of sh*t, for lack of a better word. Squeeze them into painfully pointy-toed Manolo Blahniks? They'll deal. Rub them raw in the name of breaking in a pair of Céline slip-ons? Well, what else were Band-Aids made for? And while some welcome the beginning of autumn as a sign to stuff their tootsies into the nearest pair of ankle booties and forget about them until sandal season rears its head again, we're vowing to ourselves that this time around, we're going to do things differently. Cue our panel of estheticians, medical pedicurists and manicurists—who filled us in on everything you need to know when it comes to pedicures, DIY and professional, from the best polish shades for fall to the feet myths they couldn't help but bust. One is behind the Tom Ford pedicure (yes, it's a real thing), while another boasts that she can actually take you down an entire shoe size. Watch this space for, uh, investigative reporting on that one...
Biweekly maintenance recommended...
"To keep your feet looking and feeling great, I recommend exfoliating twice a week. You can also use a foot file for the soles. Use one side of the file for each foot to avoid spreading any problems that you might have from one foot to the other."
The completely necessary tools to have in your arsenal (including a very special kind of socks)...
"A foot file and a three-way buffer. Use the foot file with cream after shower to keep calluses away. The three-way buffer is a great way to remove superficial dry nails and give your nails a healthy natural look.
As for products, I recommend having a cuticle softener to moisturize cuticles before pushing them back. I also love moisturizing gel socks, especially for winter. They have a gel lining enriched with vitamins and essential oils that restores skin's appearance. They are also washable and reusable! Wear them every day for about an hour."
When you can't make it to the medical pedicurist, follow these steps...
I. Soak your feet in a foot soap bath for 20 minutes (or after shower)
II. Clean under the nails (you can use a cuticle pusher very gently)
III. Clip the nails (keep the nail length shorter than the toe to avoid pressure in the shoes)
IV. File the nails
V. Apply cuticle oil and push cuticles back
VI. With the cuticle oil still on the nail, use a regular nail buffer to remove yellowness and dryness from the nail
VII. Apply a foot cream (preferably one that contains urea)
VIII. Gently file the soles of your feet with a foot file (remember to use one side of the file for each foot)
IX. Use a three way buffer on your nails. It will give them a natural shine and look.
What you never knew about your feet... until now...
"A pedicure doesn't necessarily require water. By using a good foot cream with urea, it is not necessary to use water or soak your feet.
Not every dry skin is callus. 90% of the time, cracked heels are actually a medical condition (athlete's foot), which should be treated with proper medical creams.
Pome stone holds an incredible amount of bacteria inside its pores (holes). Keep them away!"
Heels are really are bad for your feet (sad face)...
"I know this is hard, but high heels should be avoided to help maintain healthy feet. They put too much pressure on the toes and can cause hammertoes. I also do not recommend walking barefoot because of the risk of skin infections, such as athlete's foot and plantar warts. Besides, there is not enough "cushion" to support your body. And for those who wear sneakers, I recommend changing the insoles every 6 months—again, we need that cushion to support our body!"
Okay, so apparently getting a pedicure once every few months isn't good enough...
"If you want to always keep your feet feeling their best, [get a professional pedicure] every two weeks."
A good reason to go to professionals...
"If you get the right pedicure, you do not need to do any work in between pedicures. However, if you have dry feet, it's best to scrub every other day to keep them soft."
The one tool every woman should have...
"My favorite tool is my ceramic pedi shaper. Every women should invest in a ceramic shaper."
How to DIY...
"If you don't have time to visit a spa, the best at home pedicure would have the following steps:
I. Soak feet in basin
II. Scrub the feet —my favorite is Infinitly Loving Chinese Jasmine - A Vegan Sugar Scrub by Sparitual
III. Cut and file the nails
IV. Push back cuticles—but leave removing cuticle to the professionals
V. Moisturize the feet with lotion
VI. Base coat to protect your nail from the polish color
VII. Apply polish and second coat
VIII. Topcoat and you are all set!
The best polish for your toes...
"My absolute favorite is Sparitual's 'I Feel the Earth Move'. It's a great darker shade of red that you can wear from the fall into the winter!"
How to incorporate Tom Ford into your foot care...
"Use a soft scrub on your feet and couple with an intense moisturizer, such as Tom Ford Neroli."
Why not using any tools might be your best move...
"I think that using any tool can bring negative results. Practice using a soft scrub with a moisturizer and you will be good to go."
Tom Ford's pedicure, at home (just don't cut your own nails)...
I. Soak your feet
II. Brush your toenails
III. Use a file to buff heels and calluses
IV. Apply your favorite foot cream
V. Paint your toenails
VI. Dry and enjoy your at home pedi
"I recommend that you give yourself an at-home pedicure in between your regularly scheduled pedicures. It is best to leave the toenail and cuticle trimming to the professionals."
Foot care can happen in the shower, too...
"The easiest, most effective thing women can do between professional pedicures is to scrub their soles with a pumice stone while taking a shower, and to moisturize their feet after taking a shower and before going to sleep."
Electric callus files sound very satisfying...
"I love electric callus devices that can be used on dry feet—they are so easy to use and don't even require soaking your feet or using any strength. I also like the Tweezerman metal foot file which works fast and the JINsoon natural foot pumice stone for daily maintenance in the shower."
Be afraid of those salon foot baths... very afraid...
"Many people assume that it's okay to soak your feet in your local nail salon foot bath, but it's not if the bath has jets that circulate water. It is all but impossible to sterilize the water that resides beyond the bowl because the tubing harbors bacteria that simply can't be reached to be properly sterilized."
The JINsoon color you need this fall...
"I love subtle metallic turquoise shades like JINsoon Heirloom—it gives your toe nails an extra special glow."