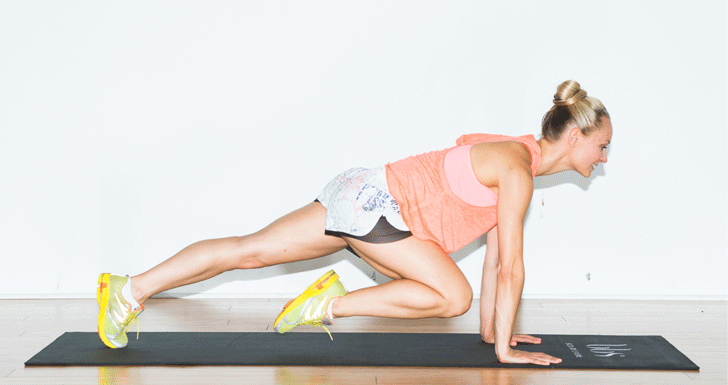 Workout GIFS: 8 Exercises from Body By Simone
Naomi Watts and Anne Hathaway's trainer gets our butt (and yours) into gear.
We'll admit it: one of our wildest childhood daydreams (which has since recurred, only in a more nightmarish nighttime version) is performing on Broadway. There. We said it. Spotlight, jazz hands, bedazzled costumes. And plenty of high kicks. That said, given that we never made it beyond our grade school musical and a rather disappointing preteen hip-hop class, despite what Glee has to say to the contrary, we guess some dreams aren't meant to come true. But when Simone De La Rue, who, as a legitimately high kicking trainer to the stars, invited us to her newly opened West Hollywood studio for a good sweat sesh, those visions of Broadway's bright lights came rushing right back.
In case you've somehow missed her seriously ass-kicking daily cardio-cum-dance aerobics classes at her New York and Los Angeles studios and her actually motivational how-to book (we like to think of it as more of a life guide), Body by Simone: The 8-Week Total Body Makeover Plan, allow us to introduce De La Rue on her behalf. A former dancer on Broadway and on London's West End, the Australian native actually lived our childhood dreams, and then she went on to live our adult dreams by launching her own (extremely successful) business. We mean, you're not just the average gym trainer when the wives of Matt Damon and Matthew McConaughey showing up to your Re-Energize classes, right?
And while De La Rue has left the Broadway lights behind (we're sorry, we just can't get over it), she's made a pretty seamless transition into Los Angeles life. A recent transplant from New York, she showed us around her sun-filled Santa Monica Boulevard studio. (She even suggested a delicious taco joint across the street, which we happily checked out.) And while her trampolines and elasticized wall bands were just a little intimidating for fitness neophytes like us, we quickly forgot our fears as soon as we saw just how much fun De La Rue made everything look. And we swear, if the following eight exercises don't spark, at the very least, a basic Amazon perusal for her Total Body Makeover, maybe the whole fitness thing really isn't for you. It's all about that #fitspo, right?
"Stand on one leg with the other knee bent and off the floor. Holding the bands as support, kick the leg directly behind you [with your] foot flexed and parallel. Bring the leg back to standing and repeat 10 times on each side."
"On a mini tramp or rebounder, jump and twist with high knees. Bring your knees up to your chest as you jump and twist working into your lowers abs and obliques. Twist left and right alternating. Work up to 10 reps on each side."
"Holding on to a table or the back of a chair, stand on one leg and cross the other foot behind you as you lower down with both knees bent into a deep curtsey. Raise the leg and kick to the side. Repeat 20 reps on each side."
"Using resistance bands on the back of a door, stand in between them in a deep lunge. Push your arms directly forward then open wide to the side, then squeeze your chest as you bring your arms back directly in front of you. Do 20 reps."
"Place your wrists underneath your shoulders in plank position. Lower both knees to the floor working into your lower abs. Now lift both knees off and repeat. Work up to 20 reps."
"Stand sideways and place both hands on the bands with arms extended. Pull the front arm across your body like a bow and arrow, working in your chest, shoulder and core. Repeat 20 reps on each arm."
"Still in plank position bring one knee into your chest and kick back directly behind you with your leg straight. Place the foot back down and repeat on the other leg. Build up to 10 reps on each side."
"Place a Pilates ball behind your knee as you contract your hamstring. Stand on the other leg as you bring your bent knee towards your abs, then kick back behind you making sure to keep you knee facing down. Repeat 30 reps on each side."