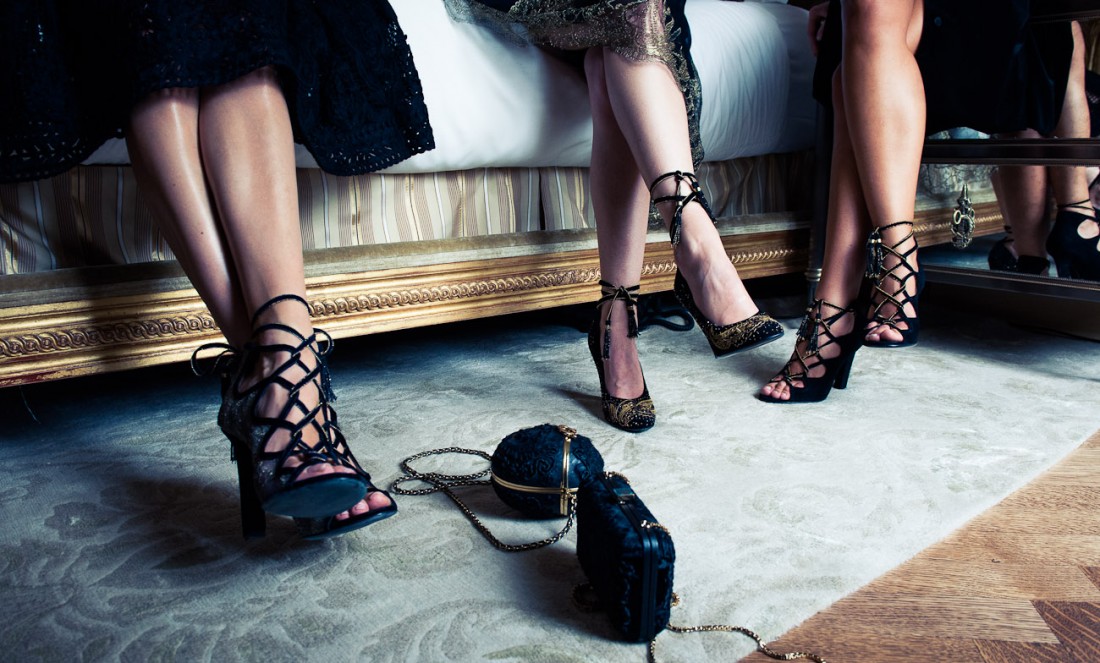 Charlotte Tilbury's Met Gala Essentials
Tom Ford & Kate Moss's go-to make-up artist gives us a few tips (you know, for watching the livestream at home).
Imagine, if you will, having highlighted and contoured the faces (a pot of patented Magic Cream on hand) of everyone from Kate Moss and Adele to Rihanna. Oh, and you just so happen to be Tom Ford's makeup artist of choice for his shows and campaigns each season. Chances are you know a thing or two about red carpet beauty prep, right?
Enter make-up artist Charlotte Tilbury, who, aside from having the aforementioned decorating her CV, is also responsible for our devotion to all things glow-y skin, high cheekbones and cat-eye liner. And so with the MET Gala being, uh, tonight (no time like the present, right?) we figured we just had to hit up Tilbury for her do's, don'ts, and what we could find inside her bag of tricks to prepare for the big evening ahead. Read on and take notes—you know, just in case Anna Wintour or Alexander Wang get generous and happen to have an extra invite. Or (our version) to play around with in PhotoBooth with during the livestream.
On the collaborative getting ready process...
"The hairstylist, stylist and myself will envision a look based on the style or cut of the dress and character that they want to reference. A slicked back bun with a wet-look shine completely relies on a specific type of makeup. Ideally it is a team effort and we decide together. The color of the dress is the lynchpin to a makeup look. Consider the shape too—how does it flow, does it cling to curves or bag over the body. Therefore what shall we play up? Can we afford to be bolder or should it be softer? I always bear in mind the texture too – is it diaphanous and chiffon-y or is it strong, terse leather? All of these elements are an essential part of my planning. Essentially the red carpet is a time for full-on glamour, everyone wants to be their most beautiful."
On the product she uses on EVERY client (so, yes, you can be just like Kate Moss)...
"I start all makeup by applying some of my fabulously nourishing Magic Cream—it floods the skin with moisture. This is my coveted secret formula that I created years ago to renew, rejuvenate and prep the skins canvas. All the models in fashion week would beg me to give them a pot of it; they'd come asking for my 'Magic' cream. It's pretty special—turns around tired, dull skin even during fashion week."
On the one product you can never use enough of...
"Mascara. You can never have enough mascara—it is perfect for lifting and opening your eyes. Use three coats and lift from the root to elongate and thicken."
On creating pretty, just stepped-out-of-a-spa skin at home...
"I start by prepping the skin with an illuminator. I then follow by addressing points of imperfection; this varies from woman to woman, but normally I will give a little light to the under-eyes and conceal any imperfections. I then use a liquid foundation to provide a lightweight, illuminating canvas for the makeup. Powder is key to sealing in a flawless base. You want a powder that isn't too light reflecting. The cameras often off-set a powder, and can make a beautiful complexion look quite bleached and drained. It is important to dust it lightly. Next, I contour with bronzer – this will always be informed by the woman's skin-tone and freckle coverage, but I like to give a little cheekbone, cupid's bow and jaw definition. Blusher never goes on until the very end of the makeup look."